News
Archive: 2014 | 2013 | 2012 | 2011 | 2010 | 2009 | 2008 | 2007 | 2006
News inserted on 17/03/2014
Sr Nicole Gomis smsm pronounces her Perpetual Vows in Lyon, France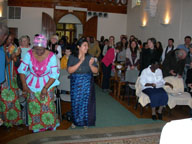 Sunday 2 March, a real feeling of celebration reverberated through the Community of 41: the drum and guitar resounded throughout the house as people gathered from many places. The Senegalese and Latin American communities were well represented. Sr Georgeanne Marie, our congregational leader had arrived from Rome. Faces were radiant with joy.
It was the joy of seeing Sister Nicole Gomis, from Senegal, pronounce her perpetual vows. After several years of religious life that have led her to serve in Mauritania, Colombia and Peru, she was in France for this total gift of self.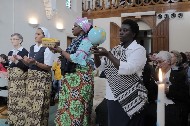 Mr Paul Diouf led the singing, accompanied by drums. Fr Christian Andraud sm, concelebrated the Eucharist with 9 priests. In the chapel and the choir loft the gathering was a little cramped, but the important thing was to be there.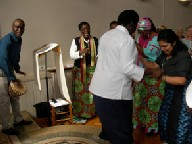 The hymns were a mixture of Wolof, Spanish and French. Emotion was palpable when the celebrant questioned Sr Nicole about her intention to "spend your entire life in the service of the People of God" to which Nicole replied: "Yes, I do". The long invocations during the singing of the Litany of the saints asked the help of many women and men who have proceeded us in faith.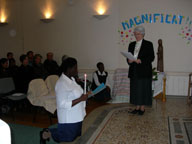 At the offertory, Sr Georgeanne Marie invited Sr Nicole to pronounce her vows. "
Most Holy Trinity, Father, Son and Holy Spirit, I, Sister Nicole Gomis, confident in Your mercy, give my whole being to You … I take forever the vows of chastity, obedience and poverty.
"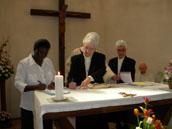 An emotional moment for all before the applause broke out and a song of thanksgiving was sung in Wolof. At the end of Mass all those who wished remained to share the meal and friendship.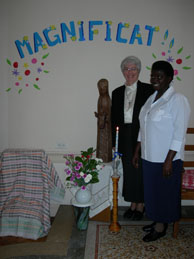 God is faithful and will care for you, Nicole, go forth without fear under the gaze of Mary as Article 10 of our Constitutions tells us:
[…]
With Mary we move forward in faith,
welcoming the unexpected,
certain of God's guidance.
In fidelity to the Spirit,
we shall discover
Mary's way of loving and serving,
so as to be a little of her presence in the world.
Sister Marie-José de Préville, smsm
Archive: 2014 | 2013 | 2012 | 2011 | 2010 | 2009 | 2008 | 2007 | 2006