News
Archive: 2014 | 2013 | 2012 | 2011 | 2010 | 2009 | 2008 | 2007 | 2006
News inserted on 20/07/2012
Ongoing Formation Programme, Philippines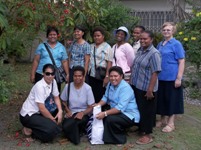 This programme offers each sister a space for reflection and for the sharing of experiences of mission and religious life from first profession until now. We are grateful to the Marist Brothers for the use of the facilities of the Marist Formation Centre, at the Notre Dame of Marbel University in Koronadal city, Philippines.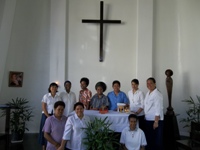 We began with an opening Mass, celebrated by Fr Larry Subrado sm. Our sisters from the Philippines Sector, FMS brothers from Marbel, and representatives of the Oblates of Notre Dame were there to give us a very warm welcome. As it was near Holy Week Sr Georgeanne Marie, our Congregational leader visited us and helped us to enter into the Paschal Mystery of Jesusí death and resurrection.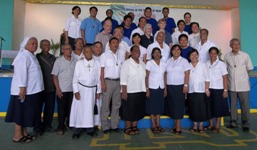 We have had the opportunity to understand more deeply the history of our congregation. Not only the history of our pioneers but also our bonds with the other branches of the Marist family. It is very good here in the Philippines as we have the opportunity to know all the branches of the family, brothers, fathers, sisters and laity.
On the feast day of St Peter Chanel (28 April), friends, family, religious and lay people gathered at Lagao to celebrate the 25 years of smsm presence in the Philippines. The celebration began with the Holy Eucharist, followed by multi-cultural items, an awards ceremony, speeches from Marist and lay associates, and a delicious lunch.
During our four-week missiology course, we retold our experience of serving in Godís mission and looked at where the church is calling us to bring the reign of God today, including the New Evangelisation, and how we can respond as smsm.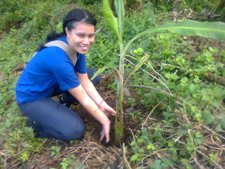 During this first semester we study theology at the university. We are finding it enriching to be with the students and to hear of their hopes and dreams. Being a green university, we a grateful for the opportunity to become involved in activities like recycling which help us to care for creation and the environment. We joined with many people of the city in a tree-planting project.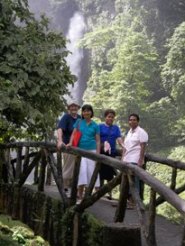 We are most grateful to Sr Georgeanne Marie and her council for meeting the needs of young sisters today. It is a significant time for all of us from different provinces. We also extend our heart-felt thanks for Srs Gladys, Margaret and Catherine for being available to guide us. A special thanks for our smsm sisters and friends who are praying for us during this year.
Archive: 2014 | 2013 | 2012 | 2011 | 2010 | 2009 | 2008 | 2007 | 2006