News
Archive: 2014 | 2013 | 2012 | 2011 | 2010 | 2009 | 2008 | 2007 | 2006
News inserted on 04/06/2012
Gratefully Celebrating 25 years of SMSM presence in the Philippines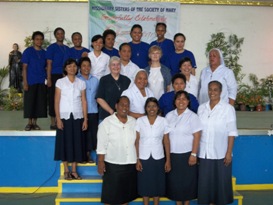 "My soul, give thanks to the Lord
and never forget all his blessings." (Ps. 102)
Every jubilee is an opportunity to look back and see how the Lord always cares for His people with steadfast love. Every jubilee enables us to look forward and renew our hope in Him.
On the feast of St. Peter Chanel - 28 April 2012, the SMSMs here gathered together in Lagao, General Santos City to celebrate the 25 years of SMSM existence in the Philippines. The colourful celebration was graced by the presence of other members of the Marist family, priests, other religious congregations of women, friends, benefactors and colleagues.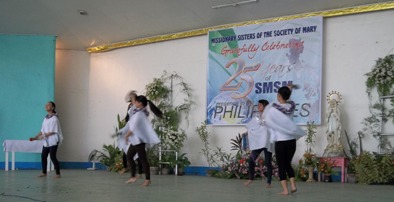 The celebration started with a mass of thanksgiving which was presided over by the vicar general of the diocese – Rev. Fr. Romeo Buenaobra with 4 other priests: Diocesans and Marist. The singing and choice of songs was exceptional, thanks to the active participation of the LAMMS (SMSM Lay Associates).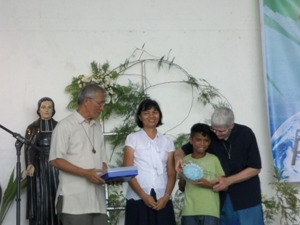 The sisters who pioneered the mission in the Philippines, those who served and have passed away and those who are here now were gratefully remembered in the Eucharist as well as those who continue to render a helping hand to the SMSMs in the Philippines.
The Eucharistic celebration was followed by a program where the Sector leader welcomed the guests. There was dancing and giving of testimonies as well as the awarding of plaques of appreciation to our supporters and partners in mission. Among those who were given recognition were: The Marist Brothers of East Asia Province, Marcellin Foundation, Inc., Business Resource Center Inc., Notre Dame of Maitum, Sto. Nino Parish of Maitum, San Vicente Ferrer Parish of Kalilangan, Sts. Peter and Paul Parish of Lagao and the Bishop of the Diocese of Marbel, Most Rev. Bishop Dinualdo Gutierrez. Messages of congratulations from SMSMs throughout the world were also read in between the dances. Words of thanks were also delivered to the attendees and all those who have shaped our history in the Philippines.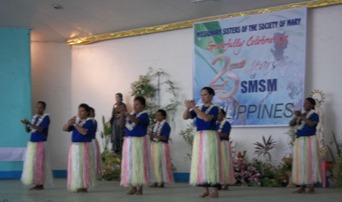 Our Marbel Community of eight young sisters, added to the celebration with various colourful Pacific dances. During a buffet lunch the dance troupe of Notre Dame of Marbel University entertained us with their beautifully prepared folk dances.
The celebration was such a joyous occasion for everyone. We truly thank God for His loving care for all of us, SMSMs in the Philippines. We thank God and give glory for the vocations, our ministries, the faith and for the love and generosity of so many people who have been the channels of His graces and blessings for the last 25 years. We look forward for a future full of hope. SALAMAT PO!
Sr. Gladys, smsm
Archive: 2014 | 2013 | 2012 | 2011 | 2010 | 2009 | 2008 | 2007 | 2006