News
Archive: 2014 | 2013 | 2012 | 2011 | 2010 | 2009 | 2008 | 2007 | 2006
News inserted on 03/04/2012
SMSM beginnings in Boston USA: Celebrating 90 years since SMSM arrived in USA 1922 - 19.03. 2012

On 19 March the Sisters went on a pilgrimage to our first home, 13 Isabella St and Our Lady of Victories Church in Boston.
Sisters Esther, Jhorna, Loretta and Marie on the bus – beginning the pilgrimage.

Our Lady of Victories Church, downtown Boston. The Marist Fathers community live next door.

Sisters Phylis, Virginia, Avelina and Pauline animate the Eucharistic celebration. The Marist Fathers and Brothers entered the festivities of the day with a great welcome.

Sr Judith Sheridan, Provincial, takes us back 90 years to give thanks for this rich history.

After dinner the Sisters went to visit our old convent at 13 Isabella St which is now a Substance Abuse Counseling Centre. Sr Judith and Sr Benilde ring the doorbell.

13 Isabella St as it is today.

Time for the Sisters to leave.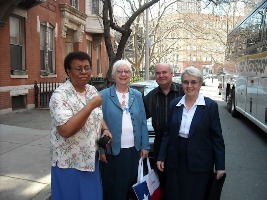 Sisters Avelina, Judith, Fr Joe and Virginia - Time to say goodbye - end of a wonderful day.
Archive: 2014 | 2013 | 2012 | 2011 | 2010 | 2009 | 2008 | 2007 | 2006