News
Archive: 2014 | 2013 | 2012 | 2011 | 2010 | 2009 | 2008 | 2007 | 2006
News inserted on 25/01/2012
MAKOGAI 100 years Ė AN OASIS OF COURAGE AND HOPE IN FIJI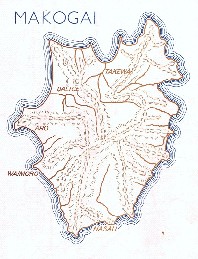 The Missionary Sisters of the Society of Mary (then the TORM) were asked to be responsible for the nursing care in Makogai. This island was purchased in 1908 by the Fiji government as a base for those suffering from Hansenís disease, commonly known as leprosy. Sr Marie Stanislas and Sr Marie Suzanne, both from France, were appointed, together with two Fijian Sisters- Sr Filomena from Solevu and Sr Tekela from Rewa. (Their Congregation is now known as Sisters of Our Lady of Nazareth Ė SOLN). Sadly, the former contracted leprosy after fourteen years of dedicated service in Makogai. Their work would include visiting the villages for daily inspection, renewing dressings, listening to the patientsí troubles, consoling them, and sometimes it could include settling disputes.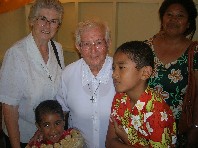 In addition to the Sisters, there was a medical superintendent with overall responsibility, as well as 2 local medical practitioners, 6 Fijian wardens, 1 European warden, 20 indentured Indian labourers looking after the farm on the island and a mechanic. Dr Hall, an Irish Protestant, was the first doctor in residence followed by Dr Austin who spent 23 years on the island, and later by Dr Beckett.
According to the statistics register kept at Makogai, 4,185 patients landed there, 2,343 returned to full health, 1,241 died and are buried there, 518 were repatriated and 83 transferred to the P. J. Twomey hospital in Suva when Makogai closed in 1989.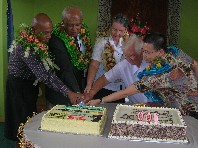 It was on 29 November 1911 that the first patients were admitted to Makogai and there was an annual intake after that. News of the care given at Makogai spread, so that in the 1920s there was an influx of patients from other islands of the Pacific.
In New Zealand, Quail Island was set up as a leprosy colony in 1906 until it closed in 1925. The remaining patients were then transferred to Makogai. While on Quail Island Mr Benajim Pratt started an appeal for them. When Mr P. J. Twomey returned to N.Z. from Fiji he met Mr Pratt and that was how he began his lifelong mission. The Makogai N.Z. Lepersí Trust Board was established in 1939 and is known today as the Pacific Leprosy Foundation. We have no details on how other patients were cared for from other Pacific Islands before they were sent to Makogai.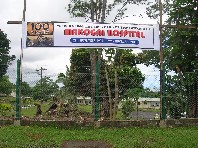 To those diagnosed with leprosy in these early days, Makogai must have meant real desolation and despair - it was like a life sentence to isolation, separation from loved ones, loneliness, physical and moral suffering. The challenge was for the Sisters and the dedicated staff to transform this image. Hospital wards with clean beds were provided, villages, according to ethnic groupings, constructed for the more able-bodied, occupational therapy and recreation facilities established, schooling was offered to the children, clubs were formed, sports organised, scouts and girl guides set up and crafts and trades taught.
Before too long, a Catholic church and a Wesleyan church were added so that the spiritual needs of the patients could be assured. It was there they found the strength to live with their sufferings. Both churches had resident chaplains. Others had chaplains appointed from among the patients who were members of their church.
However, despite all the care given, not too much could be done before 1948 to arrest and cure the disease. The sulphreton drugs, introduced that year, worked wonders and this contributed to the patientsí wellbeing and brought hope of alleviation and cures. But above all, it was the love and the care given to the patients by dedicated staff, all the help from benefactors, as well as the mutual sympathy and support of the patients themselves, the sharing of one anotherís burden of suffering that changed the face of Makogai, making it the oasis of courage and hope that it was.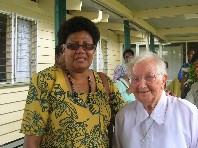 Over the years Makogai welcomed many visitors. These included those for the patients, medical experts from all over the world, journalists, research workers, NZ governor generals, other VIPs including Queen Salote of Tongał and later Leprosy Trust Board personnel.
It was the seedbed for other leprosy hospitals. Srs Mary Zita and Germaine left Makogai in1940 to take over the nursing care for patients at Hansenís Home in Spanishtown, Jamaica. Sr Mary Joseph set up a hospital in Tetere in the Solomons and one was opened in Piva in Bougainville.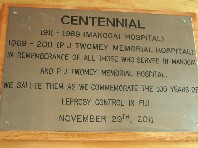 On 29 November 2011, we celebrate the hundredth anniversary of the foundation of Makogai, which served as a leprosy hospital for 58 years, before the remaining patients were either repatriated or transferred to P. J. Twomey Hospital in Suva. We can thank God for all that was accomplished there through his grace, and for all those, especially our Sisters, who, in one way or another, shared in the ministry to the poor and the suffering of those who landed on Makogai shores.
(Facts drawn from Journal of Pacific History, p. 82-86; also Makogai - Image of Hope, Sr M. Stella, Christchurch, NZ, 1978).
Archive: 2014 | 2013 | 2012 | 2011 | 2010 | 2009 | 2008 | 2007 | 2006