M. Angela TELLIER
Date of Death 05/07/2007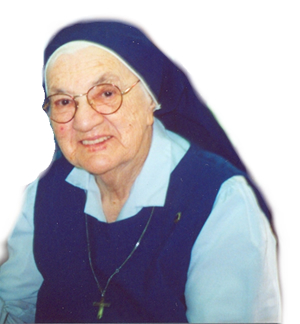 Sister Mary Angela Tellier, smsm
January 10, 1913 - July 5, 2007

The Marist Missionary Sisters celebrate the Life and Ministry of Sr. Mary Angela who died at Maristhill Nursing Home on July 5, 2007 after a brief illness.

Sister was born in Lawrence, MA on January 10, 1913, the daughter of the late Misael and Victoria (Lavigne) Tellier. She had three brothers and three sisters who predeceased her. Many nieces, nephews, cousins, friends and her loving community of Marist Missionary Sisters survive her.

Sister grew up in a deeply religious Catholic family who had a great devotion to Our Lady. This atmosphere was to have an important impact on her life as a missionary. Her sisters will always remember her as a woman of prayer, gentleness, kindness and availability, all characteristics of Mary.

After graduating from high school sister worked in the cotton mills for a few years before joining the Marist Missionary Sisters in 1934. In 1937 she received a mission assignment to the Fiji Islands in the South Pacific.

From 1937 to 1976 sister taught in the mission schools in Fiji. Sister was very resourceful in providing for a good education for her students. Among other things this meant starting a plantation and teaching the children how to grow fruit and vegetables so they could have a healthy diet.

Life in Fiji was not always easy. They experienced many floods that destroyed their crops and left much hunger and disease in the village. She shared from their small resources to alleviate hunger and disease.
It was only in 1960 that Sister Mary Angela had an opportunity to attend college and obtain her Teacher's Certificate. She did her training at Loreto Hall, Teachers Training College in New Zealand. She was grateful for this experience because she now had new tools to help her students. She returned to Fiji and continued to teach until 1989. Sister then returned to the United States after serving for 53 years. It was not easy for her to say goodbye to her Island home.

Sister came to live at 62 Newton Street in Waltham. She was gifted in the art of handiwork and knitting and she used her skills to make items to be sold at our Bazaars. She also worked with three other sisters in our Stamp Bureau where cancelled stamps were separated into different categories to be sold to stamp collectors.

In 2005 Sister moved to Marillac Residence, an Assisted Living Facility in Wellesley Hills. Although crippled with arthritis and hearing-impaired she was still on mission. She devoted most of her time to prayer where she offered her pain and dependency in union with the sufferings of Jesus for all of our missionaries and for peace in the world. She was an inspiration to all who lived at Marillac as she accepted God's will each day with joy and surrender.

During sister's wake on July 4, 2007 a Fijian woman by the name of Ellie gave a powerful testimony on the impact that sister had on her life. This woman had been an orphan in Fiji when sister taught her in fifth grade. Sister arranged for her to live at the convent. When she graduated from grammar school sister secured funding for her to attend a good Catholic High School in Fiji. She then made provisions for her to continue her studies and become a physical therapist. The emotional testimony of this woman captured the quality of Sister Angela's missionary work and brought tears to the eyes of all who were present. For the Marist Missionary Sisters present it exemplified the manner in which we are called to serve in a hidden and unknown way with love, gentleness and concern for all.

During her work as a physical therapist in Fiji, Ellie met and fell in love with a Peace Corp Worker from the United States. They got married and are now living in Michigan. She kept in touch with sister through correspondence and frequent visits and always referred to her as her adopted mother. We were pleased to have Ellie present as part of our extended family as we said our last farewell to Sr. Angela.

May she rest in peace!