Annette MENORET
Date of Death 01/11/2006
26 September 1929 - 1 November 2006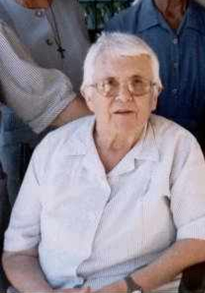 None of us lives for oneself, and no one dies for oneself.
For if we live, we live for the Lord,
and if we die, we die for the Lord;
so then, whether we live or die, we are the Lord's.
(Rom 14: 7-8)
Sister Annette MENORET (Sister Marie Alain) was born on 26 September 1929 at Notre Dame des Landes, in Loire Atlantique (France). She was the only girl in a family of 4 children. In 1950 at 21 years of age she entered Missionary Sisters of the Society of Mary and made profession on 9 March 1953. She did her nursing training at the Hospital St Joseph in Lyon and received her state Diploma of Nursing. She spent her life caring for the sick.
On 15 December 1956 she left Marseille for Oceania. In Noumea she worked at first at the Clinique Magnin then at the dispensary of Bondé, where she made her final vows.
Returning to France in 1969 for spiritual renewal, she then spent the next 7 years at Notre Dame in Ste Foy-lès-Lyon as a community and domiciliary nurse. In 1976 she returned to the community of Pierre Lenquette in Noumea where the sisters lived in an apartment in a more densely populated area of the city. After a time working as a replacement in Ouvéa in the Loyauté islands, she returned to Gaston Bourret Hospital where she worked until her retirement in 1989.
Health problems began in 1983 and continued from that time on. Despite this she cared for the senior sisters at St Louis until 1994 when she joined the community of senior sisters at La Foa. Gradually she could no longer care for herself, a real trial for someone who loved her independence. However she never complained and was able to smile even during times of suffering.
In 1998 Sister returned to St Louis where she read and prayed and gave service as she could. She helped the hospital chaplaincy by stapling the prayer sheets that were distributed to patients. This was her way of continuing to be at the service of the sick. In January 2005 she was in the community at Rivière Salée where she became more dependent on the help of others. She continued her life of prayer and patience without a word of complaint or of frustration. During Holy Week in 2006 her condition worsened and she was cared for at the Little Sisters of the Poor. She died on 1 November, the feast of All Saints. After much suffering her face had become peaceful and serene.
Her life is a reminder of our Constitutions:
"Called to live the paschal mystery
in times of suffering, sickness and old age
as well as in times of success, health and activity,
we always share in the mission of the congregation". (SMSM Constitutions 24)
Thank you, Sister Annette, for your faithfulness to your smsm vocation, both in service to the sick and in the suffering of physical limitation. We pray that the paschal mystery that you have lived will be transformed into eternal joy.
Sœur Michèle Bernut smsm
Regional
(Abridged and translated from the original in French)