News
Archive: 2016 | 2015 | 2014 | 2013 | 2012 | 2011 | 2010 | 2009 | 2008 | 2007 | 2006
News inserted on 27/04/2009
Month of Marist Studies in Rome from 15 February to 15 March 2009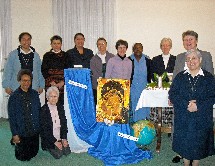 In mid February, a small group of 8 sisters from our 3 French speaking provinces gathered in Rome for a month of study and prayer on our Marist spirituality:
Eurafrica Province: Sister Annick Bourget and Sister Polycarpe Pipisega
Italy Rwanda Province: Sister Epiphanie Nyandi, Sister Angiolina and Sister Anna Rita
Oceania Province: Sister Monique Sergent and Sister Katalina Savea.
Sister M. Emmanuel Fuchs and Sister Apolina coordinated this month and input was given by them as well as by Sisters M. Emerentiana, Georgeanne Marie, Margarita Tavara and Marie Ida Briffod.
They returned to the "well" of our origins in order to strengthen themselves, to explore our smsm identity and to deepen their spirituality. Sacred Scripture is always the source of our journey towards holiness. They listened to Father Colin who captured the spirit of the Society of Mary.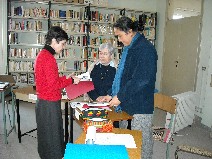 Each day they gathered at the edge of the "well" with one or another member of our family: Father Colin, Marie Françoise Perroton, Marie de la Croix, Madame des Groues, Sister Marie Denyse, Sister Marie St Charles and others. Through their strengths and limitations, they allowed the group to discover the depth of faith and love that impelled them.
Throughout the month, they absorbed the booklets on our spirituality prepared by Sisters M. Emerentiana and M. Ancilla, so that they could seize the spirit of our spiritually and pray always "looking to Mary" (cf. Constitutions 10). Each evening they shared their reflections and faced their own reality while choosing what is the best for us today.
In Rome, they joined a Papal audience, went on pilgrimage to the Basilica of St Paul and to Santa Maria of Trastevere. They were happy to see the arrival of the Roman spring with its bright skies.
"[…] we grow in understanding that our vocation in the Church
unites apostolic zeal with discreet presence […] (Constitutions 53).
Archive: 2016 | 2015 | 2014 | 2013 | 2012 | 2011 | 2010 | 2009 | 2008 | 2007 | 2006