News
Archive: 2016 | 2015 | 2014 | 2013 | 2012 | 2011 | 2010 | 2009 | 2008 | 2007 | 2006
News inserted on 30/08/2008
9 August 1908 – 9 August 2008: Centenary of the death of Sr Marie de la Croix at Bélep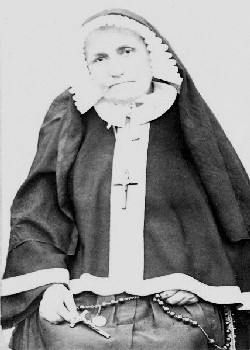 As planned from the beginning of the year, this anniversary was celebrated at St Louis. For the vigil the Filles de Marie had prepared a prayer focusing on the important stages of the life of Sister Marie de la Croix and of their congregation. When we arrived for Mass, the church was beautifully prepared with decorations and flowers. Fr Bernard Gidrol, regional superior of the Marists, and several Marist priests concelebrated the Mass, because Bishop Calvet was unable to be there. (Each year on the feast of St Lawrence, the Bishop celebrates with all his present and future deacons). With the help of, as he said, the books of Sr M. Cécile de Mijola and of Fr Forissier, Father Gidrol recounted the life Sr Marie de la Croix, emphasising her birth in heaven on this day, 9 August.
After Mass a beautiful photo of all the Filles de Marie was taken in front of the church. Only a few elderly sisters from Thabor were absent. Friends and families of the sisters came from the surrounding area, from the East coast, the Loyalty Islands and even from Belep.
Despite the rain and the mud, the joy at being able to participate in this celebration was written on the faces of all. During the afternoon we were invited to visit the exposition on the origins of the Congregation and the activities of the sisters in New Caledonia and in Vanuatu. As we left, we were able to sign a memorial visitors' book. A woman was very moved and wrote of her feelings when for the first time she saw a photo of her aunt, a religious, and how she could see the same resemblance in her grand daughter.
Upstairs in the dormitory that was identical to that of the origins, we were surprised to find the decor of former times complete with mosquito nets and storm lanterns. As well, lying on the beds were sisters dressed in their habit: cape, rosary beads, etc. After getting over the first moment of surprise, we were able to admire the work of Sr Joséphine who had put a lot of time into it and who was very pleased with the result.
Despite the bad weather, the afternoon continued in a lively fashion in an atmosphere of joy and friendliness, with dances from New Caledonia, Vanuatu and Wallis. The day concluded with prayer. Thanks to the Filles de Marie for the super organisation and the warm welcome.
Sr Michèle Bernut
Archive: 2016 | 2015 | 2014 | 2013 | 2012 | 2011 | 2010 | 2009 | 2008 | 2007 | 2006