News
Archive: 2016 | 2015 | 2014 | 2013 | 2012 | 2011 | 2010 | 2009 | 2008 | 2007 | 2006
News inserted on 25/02/2013
Echos from the Marist Relay 2012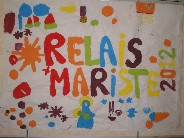 From 19 to 25 August 2012, more than 85 people, (children, youth, adults, 4 religious priests and Marist religious, including Sr Aubierge, smsm, met at the Arclosan Chalet in the Municipality of Serraval, 30 km from Annecy and at an altitude of 800 m.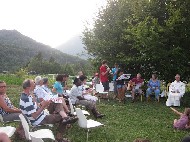 These 'Relays' (passing on the Marist baton) began in 1993, and are held every two years. This year's theme "Listen carefully in order to reach out " helped us to experience a time of conviviality, sharing, spiritual healing, relaxation and family friendship in a holiday atmosphere.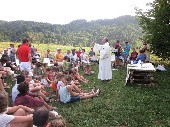 We started this time together with a Mass celebrated by Father Bernard Thomasset, sm with the music prepared by the Relay music group.
Our days were punctuated by lectures, field trips of discovery in the valley of Thones or in the mountains, beautiful evenings around the fire, and we cannot forget the day of the mountain retreat.

Many of the younger people spent time with the smaller children. They joyfully offered and helped the with many beautiful activities.
On the eve of our departure, we all discovered the talents we have received from God through the creativity of each and every person. It was a beautiful evening to finish off this time of sharing the family spirit in Mary's way.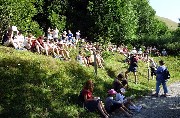 And because good things do not last long, it was necessary to go our own ways after having shared the Eucharistic bread, and to look forward to meeting each other again in two years time.
Archive: 2016 | 2015 | 2014 | 2013 | 2012 | 2011 | 2010 | 2009 | 2008 | 2007 | 2006