News
Archive: 2014 | 2013 | 2012 | 2011 | 2010 | 2009 | 2008 | 2007 | 2006
News inserted on 06/10/2012
Religious Profession of Sisters Kazika Nadege and Marie Lucie Tolojanahary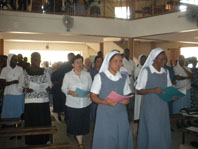 15 September 2012, in the chapel Blessed Daniel Brottier, Parish of St Joséphine Bakhita, Senegal.
"My soul rejoices in God …."
" …Lord, knowing my weakness,
I place my trust in You who are faithful.
Complete in me the work you have begun.
Mary, my loving mother,
I am entirely yours.
By your prayer
keep me in the love of your Son
until he comes. Amen" (Const. 61).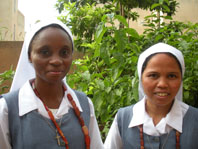 Yes, God is faithful in all things!
On this day I said my "Yes" to God through the total gift of my life for Him and in Him: I am filled with joy and gratitude and place my trust in Mary who takes my all into the love of her Son. I am filled with joy to be part of and surrounded by those whom "Mary has chosen": the Marist Fathers, the Marist Sisters, the Missionary Sisters of the Society of Mary. Three provincial superiors were present (Sister Grazia Anna - Italy Rwanda, Sister Cristina - Eurafrique and Sr Euphrasie – Oceania) and Sister Nive – general councillor was also with us. Our sisters and many parishioners were present, and our families who were not able to be there were close in thought and prayer.
Fr Xavier Bechetoille, sm parish priest celebrated the Eucharist and the choir of the sector of Dalifort provided the singing.
For us who have made profession, a new journey is beginning before us and I would like to share with you what Father said to us in his homily:
"What can I learn from you Sister Nadège and Sister Marie Lucie? - It's your courage in answering the call of the Lord who loves you and has chosen you. Your faith to say "yes" to follow Him in today's world that you know well. But the Lord who is faithful shows you the way by showing you how you should remain in his love life so that your life will bring forth fruit, fruit that will last."
I thank with all my heart each and every one who has supported us in different ways: through prayer and discreet service so that the ceremony would be beautiful and worthy of praise.
I entrust myself to your prayers again for the path that lies ahead of me.
Sister Marie Lucie T.
Archive: 2014 | 2013 | 2012 | 2011 | 2010 | 2009 | 2008 | 2007 | 2006