News
Archive: 2014 | 2013 | 2012 | 2011 | 2010 | 2009 | 2008 | 2007 | 2006
News inserted on 04/07/2012
Some of the recent jubilee celebrations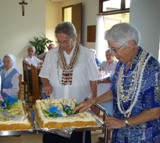 A jubilee is always a joyful time of thanksgiving and rememberingÖ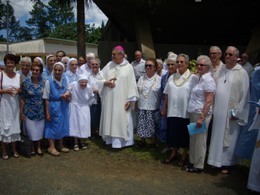 On 9 March 2012 in New Caledonia, Sr Nicole Chepetowsky celebrated 60 years of SMSM life and Sr Marie Ida 50 years. The Sisters gathered with Archbishop M. Calvet to give thanks to God for his ever faithful love that has sustained these two missionaries, "joyfully given to God, for the kingdom in the spirit of Mary".

In France Sr Catherine SalaŁn and Sr M. Claudine Michon celebrated 60 years of religious life and Sr Simone Chatelier, 50 years. The sisters gathered in thanksgiving with Fr Olivier Laurent sm around the table of the Eucharist. The words of the
Sr Santina Sterni with the smsm of the area and people and friends from the parish celebrated her 50 years on 24 March, at the Parish of Blessed Jean Paul II, Senegal. Celebrating 25 years of smsm life, Sr Jeline Giris was joined by the leaders and some students of the Nazareth Centre and later also in the parish of Pikine.
Archive: 2014 | 2013 | 2012 | 2011 | 2010 | 2009 | 2008 | 2007 | 2006