News
Archive: 2014 | 2013 | 2012 | 2011 | 2010 | 2009 | 2008 | 2007 | 2006
News inserted on 03/04/2012
Fifty Years - Mont Mou, New Caledonia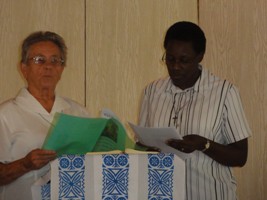 A time of recollection, of praise, and of thanksgiving…

7 December 2011: The Vigil
On the evening of the 7th we were many, Sisters and friends, gathered together in the Chapel, a Chapel beautifully decorated, to adore and give thanks.
We give thanks for these 50 years of meetings, of lived experiences, of joy and of service on this site of Mont Mou, where over the course of time so many people have come. We give thanks for all those sisters who have passed through this Novitiate and have made Religious profession. And for those who have spent some time with us on this journey…We express our gratitude for all those who worked here, who developed and enhanced this centre. We give thanks once again for the graces received during all the retreats….
Praise to him who loves us, who calls us who waits for us…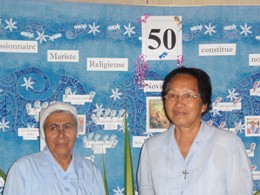 With Mary who beckons us forward…
A time to Remember…
At the beginning of the Mass we recalled the significant dates of Mont Mou, since the decision taken by Mother Mary Jeanne d'Arc, the superior general to open a Novitiate in New Caledonia for young Oceanian women from the French Vicariates and the official opening on the 15th August 1961.On the left wall of the chapel there is a display which beautifully recalls "the SMSM call to be missionary, Marist, and religious" and the consecutive novitiates under Sr. M Anne, Sr Claudine Michon, Sr Claudine Nakamura, Sr Marie Josè de Preville, Sr Danielle le Moullec, with the dates and the number of professions.
In the main room, photographs enabled us to recall some significant moments during these 50 years: SMSM celebrations and the hospitality offered to diverse groups.
A Time of Friendship
This was an occasion for many of us SMSM to gather to celebrate Mary on the 8th of December and to meet up with those Fathers, Sisters (Filles de Marie), Marist Brothers
and friends of Mont Mou who wished to share in our thanksgiving and who are always there ready to help us.
Thanksgiving Mass
The Mass was celebrated by Fr Rock Apikaoua – who represented Bishop Calvert (who was on his ad limina visit to Rome) and was assisted by several priests:
Fr Grossin, Fr Pierre N'Go, Fr Colomban, and deacons Gerard Pouillet and Michel Toekidjo. In the congregation there were many Sisters (SMSM and Filles de Marie), Marist Brothers families and friends of Mont Mou.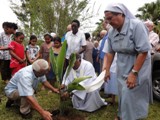 Some Significant Dates:
15th August 1961: official opening of the novitiate of the Holy Family at Mont Mou. Nine postulants welcomed. Two novices were received into the Novitiate.
8th September 1964: Profession at the Cathedral of the 5 first Sisters formed at the Novitiate.
Archive: 2014 | 2013 | 2012 | 2011 | 2010 | 2009 | 2008 | 2007 | 2006