Sister Marie Rose
Our pioneers | The Vocation of the Pioneers
Jeanne-Marie Autin 1839-1912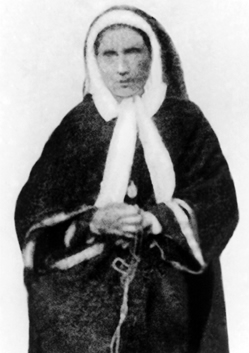 At 15 years of age, Jeanne-Marie entered a TORM, founded in 1854 in her home village of Jonzieux by the Abbé Pierre-Antoine Richard. One of four founding members, she
made profession in 1855. On hearing Bishop Bataillon's appeal for help in Oceania, she discovered a call within her first call – to live Marist religious life in mission beyond her own country.
On October 24, 1858 with Srs Marie Augustin and Marie de la Merci, she left from Bordeaux, after renewing her profession. Fr Yardin recommended her for her good judgement and leadership qualities, but warned that her formal education was limited (cf. Yardin-Poupinel, 06.10.1858, OPS I, 95). Despite this limit and the inadequacy she felt, with a tendency to discouragement and mild depression in her early years in mission, it is extraordinary all that God accomplished through her, first in Wallis, especially in caring for the sick; in Samoa in education from June 1864 until 1871; in Futuna from 1871 until 1874 in the parish and caring for Marie du Mont Carmel during her last years; finally in Wallis, for the last 37 years of her life.

Having experienced religious life, rooted in the Society of Mary, before coming to Oceania, Marie Rose longed to be a perpetually professed religious in a recognised congregation. When told by Bishop Bataillon that "they were not religious", she was deeply hurt. She could have made profession in 1871 with Marie de la Miséricorde when the Sisters of Our Lady of the Missions arrived in Samoa, but declined as she had not made a proper novitiate. Nor could she accept Marie de la Miséricorde as superior under these conditions. They knew one another too well! She was sent to Futuna but when Marie du Mont Carmel died (August 1873), Bishop Bataillon decided there would be no more sisters there.
In May 1874, on passing through Apia, Marie Rose finally made profession as a Sister of Our Lady of the Missions, after which she was re-assigned to Wallis with three companions. After hearing of the problems with the Society of Mary, she did not renew her vows in 1877. Marie Rose may not have had much formal education, but she had good judgement and a natural wisdom. She still longed for religious life that would express the complete gift of herself to God, in the spirit of Mary in whom she always had great confidence. She considered neither that offered by the Sisters of Our Lady of the Missions, nor that of the Sisters of Our Lady of Oceania, to be in keeping with what was clear to her as her vocation. She awaited the return of Bishop Lamaze. On 3 September 1881, he received her perpetual vows in the newly-erected TORM. He also affirmed her formation of the first young Wallisian women, by receiving seven of her twenty-two postulants into the novitiate on 7 September.
Sr Marie Denyse who lived with her in Wallis (1893-1898) paid tribute to her pioneering work which, though 'sown in tears' earlier, was then bearing abundant fruit, especially in the area of formation: "Actually, it is our dear Mother Marie Rose who formed our first Sisters. She is a model of courage and energy, despite her poor health and her 35 [actually 37 ] years of trials and struggles, in fact, our good sister is dedication itself..." (Annales des Missions d'Océanie, p. 324). The people of Wallis also recognised this dedication over many long years as she was much loved by them.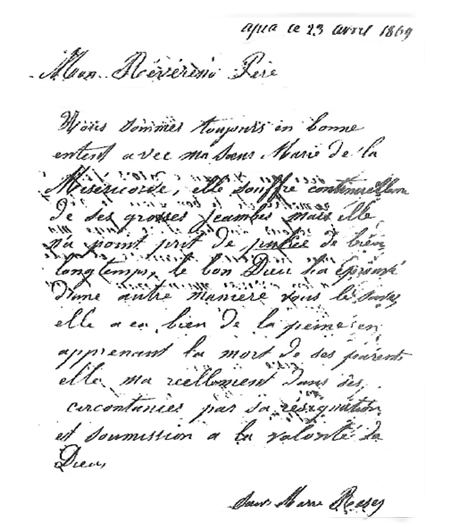 Sr Marie de la Miséricorde and I are always in a good relationship. She suffers continually from her swollen legs but she has not had an attack of puke (elephantiasis) for a long time. The good Lord has tried her in another way. You know she had great pain in learning of the deaths in her family [her father and sister died in 1868]. Her resignation and surrender to God's will has really been very [edifying] in these circumstances (Rose-Poupinel, 23.04.1869*).
240 visits