Mary Godfrey KOEHLER
Date of Death 12/12/2007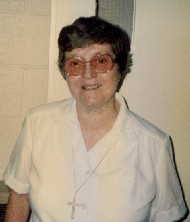 Sister Mary Godfrey Koehler (Catherine Koehler) died at Maristhill Nursing Home in Waltham, MA. on December 12, 2007. Born and raised in Brooklyn, NY, she was a daughter of Gottfreid M. Koehler and Margaret (Shortell) Koehler, both of Brooklyn NY.

Sister Mary Godfrey made her profession in the Missionary Sisters of the Society of Mary in Bedford on February 2, 1950. She was missioned in Lima, Peru in 1960 and taught there until she was elected Provincial of the North American Province from 1970 to 1974. Sister was missioned to Jamaica and then to the U.S. where she served in various capacities.

Sister has two brothers and a sister who are pre-deceased. She leaves her brother-in-law, and sister in law; also nieces and nephews and cousins, many friends and her loving community of Marist Missionary Sisters.

Before her entrance into the Marist Missionary Sisters, Sister Mary Godfrey served with the armed forces, a military funeral has been arranged.

A concelebrated Mass of Resurrection was held at the Marist Missionary Sisters Convent at 62 Newton Street on Tuesday, December 18 at 10.00 am. Burial followed at St Patrick's Cemetery.