Catherine McDIARMID
Date of Death 20/01/2007
1 January 1923 – 20 January 2007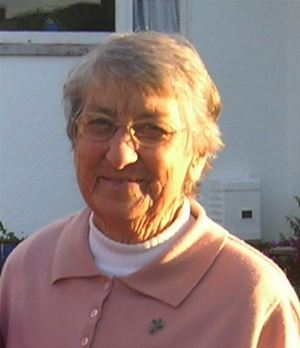 Catherine Dawn McDiarmid was born in Greymouth, New Zealand, on 1 January 1923. She had 3 brothers – two of whom also became Marists, one a Marist priest and one a Marist Brother (FMS).
Catherine (formerly known as Sister Mary Josephina) made first profession in Heretaunga on 15 August, 1953. Her first mission assignment was to St Anne's Hostel in Auckland. Part of her brief was to be laundress and chauffeur! After three years she started at Loretto Hall Teachers' College as a part time student and then later she attended full time.
In 1960 Catherine went to Wahroonga, Australia for what was to be the first of several assignments that she had 'across the ditch.' From there it was back to New Zealand in 1961 to St Brendan's School in Heretaunga. During her eulogy for Catherine, Sister Josephine Gresham smsm said: "She was a teacher and a very good one by all accounts. For many years she was the principal at St Brendan's primary school……. Most of us have heard lots of stories from this part of her life, mostly happy ones as Catherine always maintained a great sense of humour and an ability to enjoy life no matter what the circumstances."
Catherine's sense of humour, her deep spirituality, her compassion, her capacity to love and be loved, her faithfulness, her ability to affirm others and her simplicity were some of the qualities that helped Catherine to live her SMSM vocation in many parts of the world and to share her gifts with others.
As well as being a teacher Catherine was part of the New Zealand leadership team in the 1960's and 70's; she animated second novitiates at Greenmeadows; studied at Aquinas Institute in Iowa, USA; was involved in formation in the USA; did Marist studies in Rome; directed LTSRs in Australia, Rome, USA and was on novitiate staff in New Zealand. She attended a Marist Family Renewal in Fribourg and established a new community at Whangarei (NZ).
Catherine's sense of her own self and her relationship with God and her place in His plan for her were obvious in all that she did. Sr Josephine said: "Catherine was a woman who touched many lives, not so much by the great works she did but by the quality of her presence with people. She had claimed her personal freedom and self care long before it was commendable to do so in religious life. She thought outside the square in a quiet, reflective way. She loved God with all her being and she knew herself loved by God and
often spoke simply and sincerely about it. She loved Mary the Mother of Jesus. Mary was her faithful companion. She loved good food, nice clothes, outings of any kind, but at the same time she never compromised her time for solitude and prayer."
Catherine 'retired' to the St Heliers community in 2004. At that time she already knew she had cancer. She was looking forward to death. She just didn't realize it would take so long.
She moved from St Heliers to Bethany at Shelly Beach Rd about a fortnight before she died and was waiting for a room at the Hospice. After a couple of painful and restless nights and visits from the doctor and hospice nurse Catherine slipped quietly away in her sleep on Saturday, 20 January at 2.25pm. She had been anointed about 30 minutes before this.
In his sermon at Catherine's requiem, Father Graeme Connolly sm said: "Before God, we bow down in wonder at our calling and ask to be more true to it, showing love that is patient, and kind, waiting, not jealous or insisting on its own way. We thank God for the love that has come through Catherine….for her letting His glory through…..for her leaving his light sifted to suit our sight….."
Rest in peace, good and faithful servant.
Elizabeth Anne smsm
Provincial Councillor