M. Marcelline CALDERON
Date of Death 09/01/2007
4th January 1907 – 9th January 2007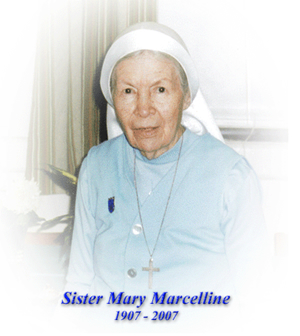 The Marist Missionary Sisters celebrate the life and ministry of Sister Mary Marcelline who died January 9, 2007 at Bethany Health Care Center in Framingham, after a lengthy illness.
She was born in Zacualpan, Mexico, (Priciliana Calderon), the daughter of Juan and Beatrice Calderon. She entered our congregation in Bedford, Massachusetts on February 6, 1947, was professed on August 15th, 1949, and took her final vows in Australia on August 15, 1955.
Her first challenge in the novitiate was to learn English. In doing so she showed a keen sense of humor by constructing many of her sentences in three different languages. She brought a unique international flavor to our novitiate as she shared her history and embraced a new culture.
She was missioned to Vanuatu (formerly New Hebrides) in October 1949 where she worked as a Pharmacist. In 1951 she was missioned to Killara, Australia where she worked in nursing at Lourdes Hospital. In both assignments she was noted for her compassion and the quality of care she gave the patients.
In 1966 she returned to Waltham, where she worked at Maristhill and other area hospitals. She had a great love for the elderly and spent her later years as a "home-maker" for frail elderly from Waltham and neighbouring towns, who wanted to receive care at home rather than go to an institution. Her competency as a "care-giver' soon spread and she was very much in demand. She continued this work well into her eighties.
On January 4, Sister Marcelline celebrated her 100th birthday at Bethany Health Care Center just five days before her death. Celebrating with her were, 20 Marist Missionary Sisters, Department Heads and Staff of Bethany, Father Ross SM and Brother Leonard representing the Marist Fathers and Brothers. Sister, although frail, enjoyed the music, refreshments and most of all, her visitors. It was like a last farewell and it gave her many friends an opportunity to spend these last precious moments with her.
We are all grateful to the Administration and Staff at Bethany for the loving care they provided Sister, during her illness of four and a half years. It is fitting that she received the same quality of care that she so generously bestowed on others throughout her missionary life.
A concelebrated Mass of the Resurrection was held at the Marist Missionary Sisters Convent, 62 Newton Street, Waltham on January 12, 2007. Internment followed at St. Patrick's Cemetery in Watertown.
Peace,
Sr. Judith Sheridan smsm