M. Yves KERBIRIOU
Date of Death 29/10/2006
24 January 1910 – 29 October 2006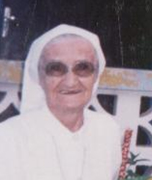 What will separate us from the love of Christ? … For I am convinced that neither death, nor life, nor angels, nor principalities, nor present things, nor future things, nor powers, nor height, nor depth, nor any other creature will be able to separate us from the love of God in Christ Jesus our Lord.
(Rom 8:35 – 39)
Sister Marie Yves, Jeanne Yvonne Kerbiriou was born 24 January 1910 at Roscoff in Brittany, France. After having worked on her parents' farm, she decided, at 28 years of age, to respond to God's call and entered the Missionary Sisters of the Society of Mary at Ste Foy-lès-Lyon and made profession on 9 March 1940 at Beaulieu, near la Neylière (due to the wartime occupation of the formation house).
On 19 May 1940 she left Marseille for Oceania. Because of the war she had to stay several months in Noumea where she worked at the Clinique Magnin, then at Port-Vila in the New Hebrides for two years. She finally reached Wallis on 18 August 1942 and stayed there for a little more than 60 years. Her character and her vivacity have remained alive in the memory of the people of Wallis and Futuna.
In Wallis and Futuna she worked in the dispensaries. At that time in Futuna there was no doctor. Often faced with difficult situations such as problem deliveries and epidemics, she learnt to rely on Providence and she had complete confidence in Mary, putting all things into her hands. In 1943 she made her perpetual vows. In 1961 she returned to France for a time of renewal and visit to her family in Brittany. Returning to Wallis and Futuna she continued to give service night and day, always ready to help the sick and women in childbirth. In 1972, she was tired and returned to France for medical care remaining there till 1974 when she went back to Wallis and Futuna to continue to care for the sick.
By 1993 she was no longer able to care for the sick but she used her gifts in the community and in caring for pilgrims who came to pray to St Peter Chanel in Poi, Futuna. Each year on 11 February she joined the pilgrimage to the grotto of Loka on the island of Alofi, and completed the whole walk to the admiration of the young people who themselves found it difficult. She spent 25 years in Poi and had an unlimited confidence in St Peter Chanel and she was able to pass this on to others. Her last trip to France was in 1998 when she was able to see her religious sister, Sr Philomène smsm, a week before she died.
In January 2005, Sister accepted to leave Poi where the people let her go with much regret, as they hoped she would remain there till she died. They had even reserved a place for her in the little cemetery there. She went to Sofala in Wallis but in October 2005 she fractured her hip and was sent to Noumea for treatment. When she was discharged from hospital she asked to stay in New Caledonia, making the sacrifice of leaving Wallis and Futuna.
After several weeks of extreme tiredness she died on 29 October 2006. Her funeral Mass was celebrated in the parish of Rivière Salée, with the burial at Saint Louis. Following their customs, the Wallisian chiefs went there to pray and to pay their respects to her, in recognition of her devotion to the population of Wallis and Futuna.
"In complete availability,
we are ready to leave our own country,
to set out or set out again
towards other peoples and other cultures,
knowing that the Spirit precedes us …"
(SMSM Constitutions 16)
S.Michèle Bernut smsm
Regional
(Abridged and translated from the original in French)