News
Archive: 2016 | 2015 | 2014 | 2013 | 2012 | 2011 | 2010 | 2009 | 2008 | 2007 | 2006
News inserted on 04/07/2011
Rwarangabo community, Burundi
Rwarangabo is a parish situated at a height of 1600m in the diocese of Ngozi, Burundi. We live at the heart of a parish full of people who live in a verdant and cool area which produces bananas, coffee and tea, which hides real poverty. It is very difficult to find a piece of land for cultivation in a country already very stretched to provide for its people. Nevertheless, the sense of joy is very visible and shows on the faces.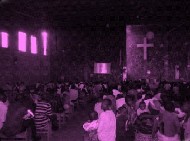 I started attending various Catholic action groups, especially the vocational group formed by young men and women. After listening to them, I promised to bring my contribution. Then a group of girls and boys in the choir also asked me to accompany them.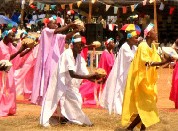 As well, I made use of the Easter holiday when all the young people were present for a sharing on vocation, to let them know that each person has a calling in life. They watched the film Choriste as it illustrated what I had shared and helped them understand how important it is to find their "place" in society and to do everything with awareness. At the end of the film the young people numbering about 70 did not hesitate to express their joy.
Sister Giordana works in a centre that provides care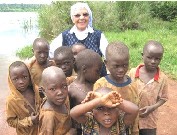 called Twitwararikane which in the Kirundi language means: 'bearing the weight of each other / supporting each other'. She and two helpers work with vulnerable families whom the leaders of the hills and the parish council have referred as being in need of material, moral or spiritual help. Her priority is orphan children who are adopted into families for protection, the defence of their rights and the possibility of a future with dignity. Sister helps them achieve this by supporting their education and other needs.
Sister Franca takes care of the hostel and a school where extra support is given to many girls in need. As an experienced and compassionate teacher she shows great responsibility towards these vulnerable children, a task that does not seem difficult.
She helps the young people in the hostel to train for an occupation either as seamstresses or tailors. Her ability to do things well gives encouragement to the young women who are usually the most disadvantaged.
Sister Juliette is a nurse and manager of the Gatsinda City health centre that is well used by the people of the area especially for the treatment of malaria and for deliveries, which occur both day and night. There is a programme offered to help malnourished children in the community.
Sœur Emilie Difficile, smsm
Archive: 2016 | 2015 | 2014 | 2013 | 2012 | 2011 | 2010 | 2009 | 2008 | 2007 | 2006