News
Archive: 2016 | 2015 | 2014 | 2013 | 2012 | 2011 | 2010 | 2009 | 2008 | 2007 | 2006
News inserted on 21/04/2011
Meeting of the Provincial Councils of Eurafrique and Italie-Rwanda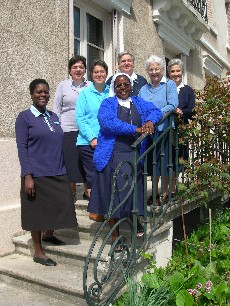 From 1 – 6 April the two Provincial Councils of Eurafrique and Italie-Rwanda met in France to revive our long-term bonds and to reflect together on a new manner of collaborating, according to the wishes of the EGC of 2010.
On the Saturday morning, after Mass at Fourvière we went on pilgrimage to Le Puy.
Returning to the place of inspiration of the origins was a very significant moment... We placed in the hands of Mary and her Son the mission that they themselves have given
to us.
On Sunday we joined the Marist Fathers at La Neylière for the Eucharist. An enjoyable time and enriching sharing. Thanks to Frs. Roland and Olivier... and their GPS... that guided us through the hamlets from la Neylière to the Hermitage. Along the route we stopped at the Chapel of Our Lady of La Salette, called "the chapel of fear" and at Our Lady of Valfleury, the sanctuary where Marcellin Champagnat sought consolation.
To look together at the two provinces re:
- Mission and vocation animation
- Initial and ongoing formation
- Mutual and more frequent exchanges among the Sisters
We placed the questions that gave us the greatest concerns in the heart of Mary.
We give thanks to the Lord for this meeting that was held in a spirit of openness and friendship.
We desire that...
The bonds of communion created by our common vocation remain alive and expressed concretely (cf. Const. 174).
Sr Cristina and Sr Grazia Anna
Archive: 2016 | 2015 | 2014 | 2013 | 2012 | 2011 | 2010 | 2009 | 2008 | 2007 | 2006