News
Archive: 2016 | 2015 | 2014 | 2013 | 2012 | 2011 | 2010 | 2009 | 2008 | 2007 | 2006
News inserted on 05/04/2011
Profession in New Zealand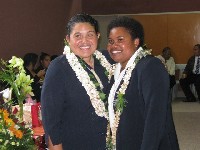 The Profession Ceremony on 25 March 2011 at St. Anne's Church at Manurewa, New Zealand was a joyful celebration. Sesilia Te Ao from Taupo, New Zealand and Mary Felesi from South Solomon Islands are excited about their first mission destinations. Sesilia is going to Jamaica, West Indies and Mary is going to Vanuatu.
We, the smsm novitiate community, were delighted to welcome representatives of each branch of the Marist Family, other religious and the family and friends of Sesilia and Mary. We were pleased that many of the parishioners who attend daily Mass were present. Many commented after the liturgy how beautiful and prayerful the Liturgy was.
It was truly a blessed occasion for us all.
Archive: 2016 | 2015 | 2014 | 2013 | 2012 | 2011 | 2010 | 2009 | 2008 | 2007 | 2006