News
Archive: 2016 | 2015 | 2014 | 2013 | 2012 | 2011 | 2010 | 2009 | 2008 | 2007 | 2006
News inserted on 05/11/2010
Pilgrimage to the Ile des Pins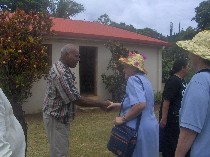 Before we left the mainland a woman offered each of the sisters a garland of flowers... this was a foretaste of the welcome we were to find on the island. After a calm trip for some and a trip that was a little rough for others, we arrived at Ile des Pins where a bus with our sisters was waiting to take us to the Mission. A reception committee formed by the people of the island welcomed us and we were then taken to meet Hilarion Vendegou, the high chief. This symbolic gesture gave us the right of entry to the island with its possibilities. The visit to the high chef , according to custom, gave us permission to tread on the 'holy ground' where we were welcomed.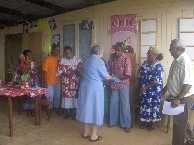 After a tour around the area where the chief lives, we had a meal at the school of Our Lady of the Angels. This was followed by a tour of the island with visits to the Bay of St Joseph, St Maurice Bay where the first Marist missionaries landed, the prison, the cemetery for the deported people, the North of the Island and the Cave of Queen Hortense. In the evening we joined the tribe of Touété for the Eucharist.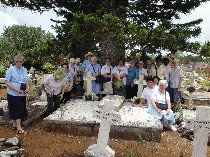 The following morning we went to the 9am Mass during which Mission Sunday was celebrated, deferred until then because of our arrival. After Mass we visited the cemetery at Vao where some of our sisters, including Sr Marie de la Presentation, Sr Marie St. Charles and Sr Marie Marguerite Faure, are buried. We ended our pilgrimage and time on the island with a meal followed by dancing by the school children who were preparing to leave for New Zealand and the children of a traditional dance group.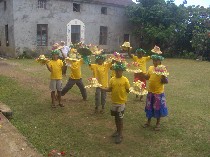 These two days spent on the Isle of Pines have been a very special time, lived with people who still have a vivid memory of our pioneers, Sr Marie de la Croix, Sr Marie de Bon Secours... What has touched us has been the simple and fraternal sharing with the people, who with our two sisters, Katalina and Manuela, have made us feel at home and who have repeatedly asked us to keep them in our hearts. How could we forget the land where our first sisters lived, the people whom our first sisters loved.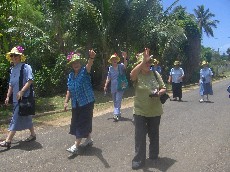 It is a grace to celebrate this 2010 Enlarged General Council here in New Caledonia … in New Caledonia, the land where the congregation has put down roots. May our tree continue to draw life from these roots, and to bear the fruits of hope for our world.
Sr Grazia Anna smsm
Archive: 2016 | 2015 | 2014 | 2013 | 2012 | 2011 | 2010 | 2009 | 2008 | 2007 | 2006