News
Archive: 2016 | 2015 | 2014 | 2013 | 2012 | 2011 | 2010 | 2009 | 2008 | 2007 | 2006
News inserted on 19/05/2010
Update from the Marist Family Renewal programme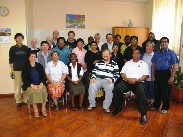 We had our Orientation in the first week of March, followed by our first speaker, Dr. Katrina Anderson, M.D on the topic of Wholistic Living. She guided us towards looking deep into our life, our mental, physical and spiritual being. She also introduced some practical ways to keep our body in good shape using Yoga, which we continue doing every Monday to Friday. We also experienced the snow (for most of us it was the first time).
Fr. David Glenday (MCCJ) helped us on Prayer the following week. He journeyed with us and guided us to see prayer in another dimension and level of our life.
The third week, Sr. Patricia Stowers SMSM, spoke to us on Interculturality. She shared with us her experiences and challenged us to see the values in our cultures and also the church. Sr. Georgeanne, the Superior General of SMSM led us to see the value of Liturgy in our lives. She helped us to appreciate not only the Eucharist but also our everyday celebrations within our communities.
The team helped us in the preparation for the Holy Week by reminding us our call to Discipleship. We listened to the whole Gospel of Mark read reflectively and meaningfully. Throughout the Easter Triduum celebrations we prayed, meditated, and participated creatively, to see and to celebrate meaningfully the liturgies with each other.
Easter celebrations continued on Monday when we had our BBQ on the lawn and invited our French speaking sisters on Renewal at the SMSM General House to join us.
Before going on to our seven full days directed retreat, we went on a day Pilgrimage to Subiaco, the birth place of monastic life, where St. Benedict spent some years in contemplation and prayer.
The whole experience of Easter continued to energize us when we went for our Retreat at Galloro from 9th to 16th of April. The Easter readings somehow resonated with the beauty of nature surrounding us as spring continued to give birth to new life in abundance. Three of our team members: Barry, Marie and David together with Fr Kevin SM and Sr. Eileen Plunkett (Franciscan Mil Hill) and the active participation of the Holy Spirit made this retreat one of our deep God-experiences. We all came away with a great sense of being deeply nourished, infinitely loved by our God and with a renewed energy to continue to respond to the transforming action of the Holy Spirit taking place in each one of us.
The following week started with two full days on ' Signs of the Times' led by the team. There was a lot of energy and enthusiasm as we worked in small groups looking at the signs of the times in the World, the Church and our own Congregations. We were divided into the four continents we come from and areas of our present mission, in Africa, Asia, Australia, Europe and Oceania. It was a powerful exercise as the response from each group challenged and reminded us of our responsibility to care for the environment and one another by being more attentive to the 'SIGNS OF THE TIMES TODAY' and in the way we live.
It was very appropriate that the next topic on the programme was on 'The Kingdom of God' by Fr John Fuellenbach SVD. He was one of the most lively and entertaining guest speakers we've had so far! On the first day we looked at What is the Kingdom of God? followed by What was Jesus all about? And the last day was on The Church and the Kingdom. The days were very full and intense but a rich experience for us as Marists in midlife to be more Kingdom conscious "…to read and smell the signs of the Kingdom which is 'now here and yet not fully revealed'."
The fourth week of April began with the topic of 'Midlife Transitions' by Br Don Bisson FMS. This was the most challenging topic so far as Don in his expertise on this area gave us a clear and honest picture of the normal process of midlife transitions. We were invited to look at our personal as well as collective shadows, not in a negative way but as an opportunity for growth and transformation. As Jung puts it "90% is gold to be redeemed and 10% we surrender to God."We appreciated very much Don's down to earth approach with lots of his own personal experiences that gave humour to real human examples that we can all relate to. How we live our midlife years can affect our behavior and attitudes in old age. "We cannot live the afternoon of life according to the programme of life's morning…"
This is our tenth week of living together in Manziana. Our creative and prayerful liturgies with the rich variety of inputs continue to nourish and help us live in this very multicultural and dynamic community. The outings, sports, manual work, combination of good food and wine and social evenings we have are all life-giving to the body, mind and soul. Don reminded us once again that "we are called to be WHOLE not perfect".
Archive: 2016 | 2015 | 2014 | 2013 | 2012 | 2011 | 2010 | 2009 | 2008 | 2007 | 2006