News
Archive: 2016 | 2015 | 2014 | 2013 | 2012 | 2011 | 2010 | 2009 | 2008 | 2007 | 2006
News inserted on 10/02/2010
Revisiting Jamaica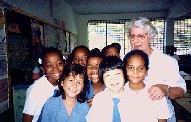 I Lift Up My Eyes to the Mountains:
I stood on the hillside at Widcomb, outside Claver Home for the Mercy Senior Sisters, and lifted my eyes to the mountains. The lush undulating hills in the distance were a study in shades of green framed against a clear, blue sky. Before me was an array of colors from fire red hibiscus to orange helicons and tropical leaves, vines and trees of every kind. I stood suspended in a moment of beauty and awe realizing that God's Presence in the soul of Jamaica is the beauty of the land. Herein lies healing, hope and vibrancy for all that is broken, hopeless and struggling in the lives of the people.
Hidden and Unknown - A Marist Characteristic:
You will laugh when you hear my second source of inspiration. We were driving to Mass along Harbour Street, Montego Bay, with the famed Montego Harbor on the left and various stalls, shops, gully and a garbage dumpster on the right. We stopped beside the dumpster where an elderly man (probably younger than me) leaned on a broom stick with a wasted straw brush on the end. He smiled, came to the back of the car and removed a garbage bag from the trunk. Beside it was a grocery bag with flour and Splenda (he was diabetic and asked Sister for a sugar substitute). There were smiles and waves all around as we continued our journey. This man was obviously happy. He kept his garbage area clean and took pride in it. The simple gesture of help to the Sisters and their return of help formed a friendship over the years driving a wedge against what could have been something divisive and demeaning. This summed up for me the mission of our Sisters here in Jamaica. They are truly hidden and unknown as they offer their services in areas of dire poverty.
They give skills training to help people get work. They provide day care so others can work. In Kingston, Sr. Lupe, helps to run projects assuring funding agencies that the money is absolutely used for the poor and for empowerment. Sr. Ruth has spent 13 years in charge of Catechetics for the Diocese of Montego Bay and has an army of catechists well trained and eager to spread the Good News. These people are not in any headlines. They do such hidden work and nothing that is recorded in terms of success. They just believe that God has called them here to be in solidarity with a people who are a mix of great soul, raucous music and restless unemployed youth. Mr. W, on Harbour St. becomes a model for me of a person who has dignity and is willing to do what it takes to keep it.
Sr Judy Sheridan smsm
Archive: 2016 | 2015 | 2014 | 2013 | 2012 | 2011 | 2010 | 2009 | 2008 | 2007 | 2006