News
Archive: 2016 | 2015 | 2014 | 2013 | 2012 | 2011 | 2010 | 2009 | 2008 | 2007 | 2006
News inserted on 25/01/2010
Marian Community Learning Centre, Kiribati
We recommenced the Marian Preschool in makeshift conditions in 2002. Sisters Akineti Naaru, Catherine Diau and now Rachel have nurtured this project and gradually the numbers have grown (as has the population). Seeing its benefits the women asked if it was possible to build their own school. The diocese already had some land and was willing that it be used for this purpose. We were able to get funding to pay for building materials and the salaries of the workers. This building project took us two years and in November 2009 it was blessed.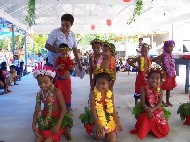 The little girls in the photo are dancing on this occasion.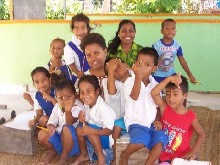 We have 4 qualified I-Kiribati teachers and there are now around 55 students. The new name for the Preschool is Marian Community Learning Centre, as it is hoped that it will be used also for Ongoing Adult Education. That is our dream!
Sister Shirley Morid smsm
Archive: 2016 | 2015 | 2014 | 2013 | 2012 | 2011 | 2010 | 2009 | 2008 | 2007 | 2006