News
Archive: 2016 | 2015 | 2014 | 2013 | 2012 | 2011 | 2010 | 2009 | 2008 | 2007 | 2006
News inserted on 11/01/2010
150 years of education on Ile des Pins, New Caledonia
On 27, 28 and 29 November 2009 the Notre Dame des Anges School celebrated the arrival, 150 years ago, of the two Pioneers in May 1859. Sister Marie de la Croix has stood out in the history of this island. She began her work in the field of education as soon as she arrived – without textbooks, without exercise books, without pens, without pencils, without chalk – with only the desire to form the young girls and boys as Christians, humanly and intellectually.
For the three days of the festival there was joy and recognition for what was achieved by these courageous Pioneers.
On the first day, the children of the primary school prepared dances, mimes and songs telling the story of the missionaries and the mission. The following days, at the invitation of the High Chief, the young people of the different tribes performed traditional dances.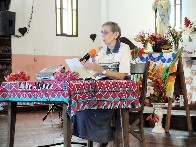 Sister Marie Cécile de Mijolla was invited to present the work of Sister Marie de la Croix on the Île des Pins. This talk helped all who were present to discover the unique history of this woman, one rich in initiative and audacity. In her exposé Sister Marie Cécile also made mention of Sister Marie de la Présentation who continued teaching from 1861 for a further twenty years.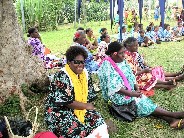 Women, both young and not so young, were present to remind the young generations of the life of communion they shared with the sisters and how all benefitted.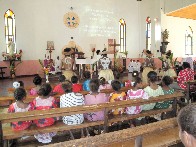 This time of sharing, of memories, of recognition, of joy and of hope for the future was brought to its culmination in the celebration of the Eucharist.
Archive: 2016 | 2015 | 2014 | 2013 | 2012 | 2011 | 2010 | 2009 | 2008 | 2007 | 2006