News
Archive: 2016 | 2015 | 2014 | 2013 | 2012 | 2011 | 2010 | 2009 | 2008 | 2007 | 2006
News inserted on 27/07/2009
The second conference of the Marist laity in New Caledonia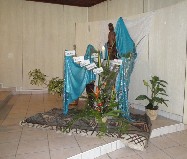 The second conference of the Marist laity in New Caledonia was held at Mont-Mou on 11 July. The Marist laity group consists of all the lay branches of the Society of Mary in New Caledonia: Third Order, Marist Fraternities, Young Marists, the Marista Choir and the Marist Cells.
The office of the Marist laity is made up of a member of each group, with Fr François Grossin as the co-ordinator. This conference was open to all. The theme was chosen to link up with the next general chapter of the Marist Fathers in Rome:
"To evangelise in Mary's way"
"Woe to me if I do not announce the Gospel" (1 Co 9: 16)
The young Marists warmly welcomed each person despite the pouring rain. We first met in the chapel. The statue of Mary was in the place of honour; a tree-trunk represented the different branches. During the prayer each branch was mentioned and the group's name was hung on each branch. All were invited to live and to evangelise in Mary's way and to live her virtues: trust, audacity, discretion and thoughtfulness.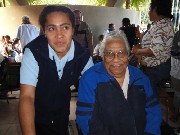 Throughout the day a member from each group tried to explain how he/she lived Mary's way in ordinary life. Sr Michèle Bernut shared on behalf of the smsm, while Sr Olivina spoke of how despite her disability caused by paralysis, she wanted to live this Marist spirit by being welcoming to all and by listening to all who come to visit her. Sr Monika translated into French for her. Sr Malia Visesio Paolo, passing through Nouméa on the eve of her 50th jubilee, described how she tries to live like Mary and to be a witness of Mary's presence where she is.
These testimonies and those of the lay people were very touching. Each person, in her/his situation, is trying to make our Church a "Marian Church". What is very encouraging is the presence of the young people, the Young Marists and the Marista choir who wish to witness through singing,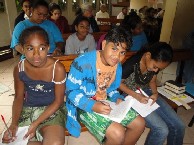 The day was very rich. The full chapel meant that those who participated were numerous. Posters were displayed in the big room enabling us to look at them during the short moments of free time.
Bishop Calvet celebrated the Mass that ended the day. We were pleased to welcome Fr Milio among us, he organised his visit to his confreres to coincide with this meeting. "How shall we sing the Lord's song in a foreign land?" (Ps 137: 4).
Thanks to all; this day has warmed our hearts.
Archive: 2016 | 2015 | 2014 | 2013 | 2012 | 2011 | 2010 | 2009 | 2008 | 2007 | 2006