News
Archive: 2016 | 2015 | 2014 | 2013 | 2012 | 2011 | 2010 | 2009 | 2008 | 2007 | 2006
News inserted on 21/07/2009
Study day on aspects of our Marist origins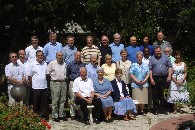 Several of us in Rome joined with other members of the Marist family (Fathers, Brothers and Sisters) to share our perspectives on "A tree with many branches – Perspectives on Marist origins and traditions".
This is an attempt to work together on aspects of historical research that are intimately linked with our shared charism and with our lives today. It is also an invitation to go beyond our own perspective to listen to a broader perspective on how each branch views and reads Marist origins. We are aware that the models and the terminology we use to express this will ultimately find their way into our texts and the vocabulary that we use to express our spirituality.
A presentation from a representative of each branch brought out 'lights' on how each branch sees the Marist family and the work of Mary.
Archive: 2016 | 2015 | 2014 | 2013 | 2012 | 2011 | 2010 | 2009 | 2008 | 2007 | 2006