News
Archive: 2016 | 2015 | 2014 | 2013 | 2012 | 2011 | 2010 | 2009 | 2008 | 2007 | 2006
News inserted on 15/06/2009
Perpetual vows in Vanuatu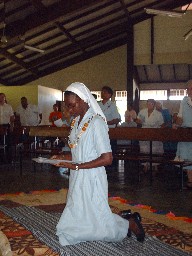 "It was not you who chose me,
but I who chose you and appointed you
to go and bear fruit that will remain" (John 15:16).
These words summarize the occasion on Saturday, 18 April 2009 when Sister Hélène pronounced her perpetual vows during a lovely celebration at the Cathedral of Port-Vila, Vanuatu. The liturgy had been well prepared by Sister Viviane and the students of the Foyer Julliard. The president of the Association of the youth, Anthony Luwislili accompanied them on the piano.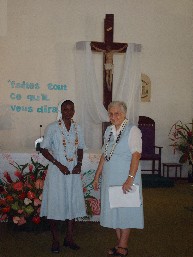 A large number of people responded to Sister Hélène's invitation, witnessing to the importance of this special occasion. After the Mass, Sister Maurizia Mitelli, our provincial, invited the people to share a meal in the parish hall. This was followed by some entertainment.
This joyous occasion united us not only with the religious communities but also with the youth, the local people and people from other ethnic groups for a celebration together. Two differently abled people were among the guests and they were delighted to be part of the celebration.
Archive: 2016 | 2015 | 2014 | 2013 | 2012 | 2011 | 2010 | 2009 | 2008 | 2007 | 2006