News
Archive: 2016 | 2015 | 2014 | 2013 | 2012 | 2011 | 2010 | 2009 | 2008 | 2007 | 2006
News inserted on 01/04/2009
"I take forever the vows of chastity, obedience and poverty"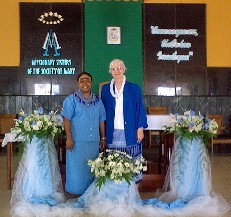 Sr. Prista had a beautiful Final Vow celebration at the Cathedral in Montego Bay, Jamaica on February 3, 2009. The choir was at their best with Jamaican hymns, as well as traditional ones. The drum was played by Beverly Fray and the gentle sway from side to side reminded me of the choir in Tanzania. The Church was simply and elegantly decorated. Fr. Eremondo Muavesi, Vicar General, (from Fiji) was celebrant and homilist. His enthusiastic preaching added to the joy of the occasion. The 2 and 1/2 hour ceremony fairly flew by.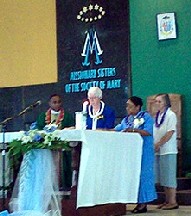 Sr. Prista wore special Solomon Island bride price beads around her forehead and around her neck. I explained the significance to the people and said in Prista's culture women wore these beads on their wedding day and that it was fitting for her to wear these toady as she is a "Bride of Christ" - there was a collective gasp and applause and tears. People said they had never seen anything like this. I hope it touched some other young women in the Church to consider a vocation to Religious life. We had an aspirant with us from USA who is here for a "live-in" and she was thrilled.
After Mass, Prista stood at the door greeting people. Many tourists to Montego Bay congratulated Sister and said they never saw anything like it. Some of the young girls asked if Sister would throw her corsage for them to catch. We laughed and said that the catcher would be our next Marist Missionary Sister.
A simple reception followed in the hall. Truly a Spirit moment.
Sr. Judy Sheridan, smsm
Archive: 2016 | 2015 | 2014 | 2013 | 2012 | 2011 | 2010 | 2009 | 2008 | 2007 | 2006