News
Archive: 2016 | 2015 | 2014 | 2013 | 2012 | 2011 | 2010 | 2009 | 2008 | 2007 | 2006
News inserted on 03/03/2009
Celebrations at Notre Dame du Cap Vert School, Senegal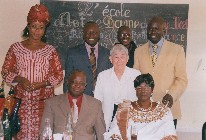 Yes, from 17 to 21 December 2008, our Notre Dame du Cap-Vert school celebrated its Golden Jubilee. Opened with sixty pupils on 4 November 1958 at Pikine, at that time, a huge slum of Dakar, today 1585 pupils are on the roll.
This celebration was prepared with love and competence by Madame Diouf, the headmistress with the teachers, administrative and service staff and the past pupils. The festivities were beautiful, joyous and full of life… wonderful! Singing, music, tam-tam, games, dances reverberated to fill this area of Pikine with joy.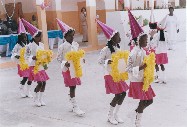 The solemn Mass was celebrated in the school grounds by Fr Jean-Marie N'Dour, a long-time friend of the SMSM. The pupils of the middle school prepared the liturgy, which focused on God and put the school in God's care. A statue of Mary was blessed at the end of the Eucharistic liturgy and placed at the entrance to the grounds.
The official celebration for the inauguration of the "Cardinal Adrien Sarr pavillon" took place on the 19th with numerous distinguished persons present. All the Missionary Sisters of the Society of Mary, not only those involved in teaching but also those in health work, promotion of women and pastoral work, were thanked and honoured. The gratitude of the Senegalese is immense! I thank God for this!
21 December: a day full of emotion, friendship, sharing… Forty former pupils, Christians and Muslims were anxious to spend this day with Sr Mikaël and myself. They treated us, pampered us, showered us with honour: - Sharing of a tasty "tiep u diene" (rice with fish); - Memories; - Testimonies which fill the heart and are treasures of gratitude.
The following are two examples, firstly from a Muslim and the second from a Catholic: "You gave us the value of work, honesty, mutual respect, tolerance, friendship, simplicity!" Fifteen years ago Florence began a private school that today has fifteen classes and 735 students. She told me: "I want to put the spirit of Notre Dame du Cap-Vert in my school."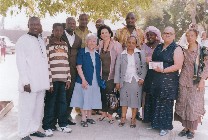 The small grains sown 50, 40, 30 years ago with love, joy and also in difficulty and suffering have grown, and today produce good fruits. I am aware that the Marist spirit lived daily has stamped our actions, big and small. Seeing numerous former pupils engaged in serving both their country and the Church was a source of great pride.
I thank the Lord for these two weeks in Senegal. I return enriched, my missionary vocation is renewed, my heart overflows with gratitude to the Congregation who allowed me this time, for the former pupils who paid half of my travel, for all who made these festivities a real success. "How can I thank the Lord for all he has done for me how can I tell you, Lord, of my joy-filled thanksgiving?"
Sr Claudine NAKAMURA
Archive: 2016 | 2015 | 2014 | 2013 | 2012 | 2011 | 2010 | 2009 | 2008 | 2007 | 2006