News
Archive: 2016 | 2015 | 2014 | 2013 | 2012 | 2011 | 2010 | 2009 | 2008 | 2007 | 2006
News inserted on 23/02/2009
50 years of SMSM presence in Senegal: 1958 - 2008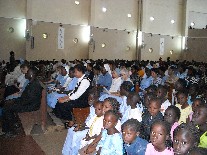 The celebration of 50 years in Senegal has enabled us to ponder the history and mission of our congregation in this West African country.
The 'thank-you's and other expressions of gratitude during the jubilee have been the opportunity to remember, to taste the presence of God and to be enriched by what the sisters have lived.
We acknowledge our senior sisters who opened the way for us in this land of Africa. Their example, their witness, their lives given to the country that received them and that has become ours, has enabled us with all those who surround us, to experience profound times of prayer and to enter into the spirit of the celebration.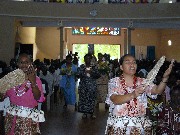 What has touched us during this re-looking at our past has been the presence of our sisters in different ministries. In health care we have become known for the quality of care, the acceptance of all without distinction and the work with the people with Hansen's disease (leprosy). Since the beginnings at Notre Dame du Cap Vert school, commitment to education, dynamism and simplicity have been the spirit in which the sisters have served. This has not been forgotten.
This time has also been one of questioning for each of us. How are we signs of peace and reconciliation in the world of today? How are we responding to the calls of the world and the Church? We are faced with many other questions, so it is essential to walk humbly with our God in the manner of Mary.
These 50 years have opened the way for us into the future. The spirit of Mary helps us radiate the love of God and love of our neighbour.
Sr Ana Briones Sanchez, smsm
Archive: 2016 | 2015 | 2014 | 2013 | 2012 | 2011 | 2010 | 2009 | 2008 | 2007 | 2006