News
Archive: 2016 | 2015 | 2014 | 2013 | 2012 | 2011 | 2010 | 2009 | 2008 | 2007 | 2006
News inserted on 23/02/2009
25 years of presence in Colombia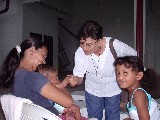 Our SMSM presence in Colombia began with the mission of Montería. These 25 years have given the possibility to many sisters to share what God has given them: Happiness! The parish community of San José Obrero in Monteria captured the source of our happiness and expressed it during the Eucharistic Celebration of Thanksgiving.
"The Parish Community of San José Obrero gives thanks to the Lord for your presence in our midst during these 25 years of untiring labor. Through this we have come to understand the project of God in our lives, and how He has manifested this, giving you wisdom and the anointing of His Spirit, to enable you to contribute in the spiritual and social development of this Parish Community.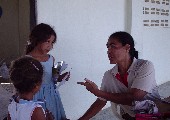 It is not easy, Sisters, to leave your families in such faraway lands, but obeying God's call, you have come to fulfill such a beautiful mission. We have opened the doors of our hearts to you with fraternal love, so that you would feel at home with us, for we are truly the one big family of God."
For our part, we who live with the Colombian people in three different parts of Colombia - Monteria, Bogotá, and Cartagena - feel very grateful, because day after day we discover the profound merciful love of this people in spite of the violence which persists.
"Happy are they who mourn, for they shall be comforted.
Happy are they who hunger and thirst after justice, for they shall be satisfied."
These beatitudes are the goal of our remaining and at the same time, a lighted torch along our path.
It is with these sentiments that we live this anniversary with the community of Saint Joseph the Worker, with other invited guests, and with Monsignor Julio Cesar Vidal Ortiz, who presided over the Eucharistic Celebration and in the banquet which followed. Thank you to all of you, Sisters and Friends, who have been present with us through your messages.
Archive: 2016 | 2015 | 2014 | 2013 | 2012 | 2011 | 2010 | 2009 | 2008 | 2007 | 2006