News
Archive: 2016 | 2015 | 2014 | 2013 | 2012 | 2011 | 2010 | 2009 | 2008 | 2007 | 2006
News inserted on 07/01/2009
Jubilee: 50 years of SMSM presence in Senegal
A Mass of Thanksgiving celebrated by Cardinal Théodore Adrien Sarr and the priests of the parishes where we work was celebrated on 26 October to commemorate 50 years of our presence in Senegal. The previous evening a prayer vigil was held in each of the three parishes where we are present. We were invited "to remember" in order to give thanks and to make a new beginning.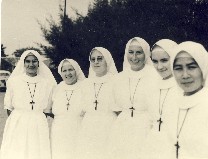 1958 – 1968:
the arrival of the sisters in Pikine and six years later in Fandène. Gradually they found accommodation, began the school and dispensary, and responded to the needs of the people.
1969 – 1988:
the opening of the community in Guédiawaye and the development of the works in Pikine. The Christian and Muslim leaders of the people of Guédiawaye asked for a dispensary which opened in January 1970 and by 1973 three sisters were living in the area and tried to respond to the different needs of the people.
1989 – 2000:
pre-catechetical schools, the opening of the postulancy and then a novitiate. Little centres for the teaching of catechism to the Christian children were begun and continue to develop today. Some young women showed the desire to become sisters. Today Juliette is a missionary in Burundi and Aubierge is in Madagascar.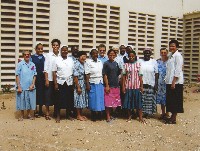 2000 – 2008:
today 18 sisters from 13 countries form the sector of Senegal / Mauritania.
The sisters are involved in the care of the sick, pastoral work, pre-catechetical schools, promotion of women and work among the street children.
Archive: 2016 | 2015 | 2014 | 2013 | 2012 | 2011 | 2010 | 2009 | 2008 | 2007 | 2006