News
Archive: 2016 | 2015 | 2014 | 2013 | 2012 | 2011 | 2010 | 2009 | 2008 | 2007 | 2006
News inserted on 30/12/2008
Pilgrimage to Belep, New Caledonia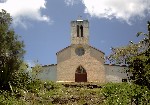 The same traditional hymn that had been sung to welcome newly arrived missionaries to the island of Belep was sung to welcome Sr Malia Ivona and Father Soane Malia in early November. They had come to celebrate the first sisters (Marie de la Croix, Marie de la Paix and Marie de Bon Secours) who arrived in New Caledonia 150 years ago and the life of Sr Marie de la Croix who died on 09 August 1908 and is buried there. All were disappointed that cancellations of plane flights prevented the other sisters from reaching the island.
The catechist Philippe and Cyriaque Béalo, the president of the Parish committee and the parishioners welcomed the visitors with the cultural welcome and presented them to the Chief and the parish. The high chief Amabili welcomed them warmly into his home with the following words: "I am happy, my sisters, that you have made this approach, even if things have not worked out as planned. Know that you are welcome. Our common heritage is Sr Marie de la Croix. It is thanks to her and those who followed her that we have received the faith and that we proudly try to pass on to our children today. You and the Priests, you are our people, you are at home here."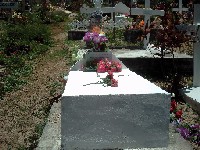 At the end of the Mass of Thanksgiving, Sister presented the new book, written by Sister Marie Cécile de Mijolla:
Une Vendéenne au bout du monde: Sœur Marie de la Croix (1831 – 1908)
to the chief and to the parish.
Archive: 2016 | 2015 | 2014 | 2013 | 2012 | 2011 | 2010 | 2009 | 2008 | 2007 | 2006