News
Archive: 2016 | 2015 | 2014 | 2013 | 2012 | 2011 | 2010 | 2009 | 2008 | 2007 | 2006
News inserted on 15/12/2008
Come and share Liturgy and a meal with Cardinal Sean - Boston, USA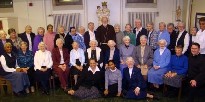 "What is the occasion for the Cardinal's visit?" everyone asked. Jonathan, Cardinal's Secretary, called to ask what the occasion for the visit was. The "Occasion" was the Cardinal. True there were special occasions; Chapters, Jubilees, etc. when the Cardinal was invited but had to decline because our invitation was too late. This time, would be a social, informal, time of worship and conversation.
Advent speaks about welcoming, preparing and expectation. Thus we found ourselves preparing Liturgy and food with simplicity and informality. A spirit of welcome and friendship prevailed. It was nice, actually, not to be caught up in a Big occasion where so much energy goes into organization and ritual and so little time is left for visiting.
Our association with Cardinal Sean began when he was Bishop in St. Thomas V.I. Several of our Marist Missionary Sisters were in mission there and, typical of mission life, the Bishop is readily available and involved with your life and you with his.
We have a number of ministries in the Boston Arch-Diocese but our largest one by far is the Ministry of prayer. We assured Cardinal that we pray for him and the Arch-Diocese.
While enjoying a light meal of soup and sandwiches, it wasn't long before our conversation went to speaking of our life and missions. I told Cardinal about our newest mission in Tanzania and our work with poor students, youth and small Christian Communities. My own experience of Church while visiting was unforgettable. The Cathedral was bursting with people and the liturgy was celebrated with great enthusiasm with song and processions and swaying bodies. The majority of the people were young and when I commented about this I was told that the life expectancy is only 46 due to Malaria, T.B. and Aids. Tanzanians are friendly and happy and quickly win your heart.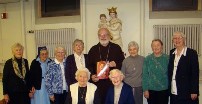 Cardinal Sean spoke of his visit to his Franciscan Brothers in Papua New Guinea following World Youth Day in Australia. He asked if any of the Sisters had been missioned to PNG and this led to a photo opportunity with all the Sisters who had served in PNG - most of us on the Island of Bougainville. Cardinal Sean stood in the middle of the photo, holding the Red Madonna - a mother with her child from the Highlands of Papua New Guinea which he has chosen for his Christmas Card this year. Sr. Catherine Keogh spoke with the Cardinal about several of his Brothers she knew. He was more than a little surprised when she said she had served in mission there for 50 years.
The evening ended with our gift of a Lennox Crystal Cross. I told the Cardinal that I know he has many Crosses but if he puts this one in the light, it would make rainbows.
Fr. Jonathan shook my hand enthusiastically, commenting on our relaxed evening together. I realized then, it was reminiscent of other evenings in the missions. It was simply Cardinal Sean, missionary, enjoying an evening with other missionaries.
Sr. Judith Sheridan, smsm
Archive: 2016 | 2015 | 2014 | 2013 | 2012 | 2011 | 2010 | 2009 | 2008 | 2007 | 2006