News
Archive: 2016 | 2015 | 2014 | 2013 | 2012 | 2011 | 2010 | 2009 | 2008 | 2007 | 2006
News inserted on 04/12/2008
Closing of the celebrations at St Louis for 150 years of presence in New Caledonia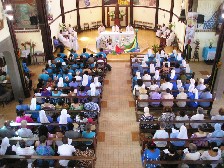 These two days were spent with the Filles de Marie and SMSM gathered together as a family and joined by some friends. The committee for the 150 years had met to prepare the Saturday evening vigil and the day of the 16th. We were greatly helped by Father Milio Vakasirovoka, parish priest and the pastoral council of St Louis. They had asked the commune of Mont Dore for help with the logistics.
On Saturday the 15th at 6pm we prayed before the statue of Mary that is in front of the chapel of Our Lady of Repose. From there we processed along the path to the Church that was decorated with bamboo arches, woven coconut leaves, candles, torches and coloured cloths giving it a beautiful appearance. Sr Maurizia pointed out that this was the anniversary of the death of Father Jean-Claude Colin, founder of the Society of Mary and also the anniversary of the departure of Marie Françoise Perroton for Oceania in 1845.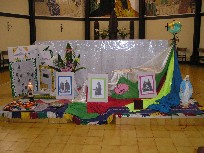 The vigil began in the Church with prayers of thanksgiving and a slide show on our Pioneers. We then went to the cemetery of St Louis where our Filles de Marie and SMSM sisters are buried. We paid our respects to them and prayed asking them to intercede for us and for vocations.
The following day we admired the beautiful panels prepared by Sisters M. Venance and Apolina showing the different departures of the Pioneers. Mass was celebrated by Father Roch Apikaoua, vicar general and was organised by the group of young Marists from Mont Mou.
After the Mass a very beautiful custom ceremony with the chiefs of St Louis was held: cloths, cordilyne leaves and Kanak money were presented to Sr Maurizia who responded by presenting the customary thanksgiving gifts.
This was followed by a shared meal which, like all Oceanian meals, was abundant. The women of St Louis and the Filles de Marie helped us greatly.
The rain began at 1.30 pm and continued till 4 pm, but it did not stop the young Marists from continuing the activities under the rain. I think that the pioneers in heaven would have been happy to see the blessings that we received. After the words of thanks, Father Milio closed the day with a prayer.
Joy was evident on the faces of all … a beautiful gathering at the cradle of our two congregations.
- Sr Michèle Bernut smsm
Archive: 2016 | 2015 | 2014 | 2013 | 2012 | 2011 | 2010 | 2009 | 2008 | 2007 | 2006