News
Archive: 2016 | 2015 | 2014 | 2013 | 2012 | 2011 | 2010 | 2009 | 2008 | 2007 | 2006
News inserted on 30/09/2008
New General Council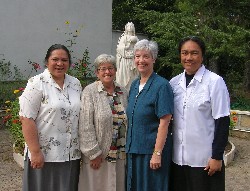 After receiving permission from the Congregation for Religious, the General Chapter decided to elect only three General Councillors for the next seven years.
Today the chapter elected Sister Apolina Ikauno, Sister Pauline Gresham and Sister Malia Nive Kepu as General Councillors to assist Sister Georgeanne Marie Donovan.
Sister Apolina Ikauno:
Sr Apolina Ikauno was born in Wallis on 6 February 1964. She entered the Congregation in New Caledonia and made first profession at Paita in New Caledonia on 30 January 1988.
Her first mission assignment was to Vanuatu where she taught in various schools until 1998 when she undertook training as a formator in Chicago, USA and France. For the last seven years she has been Postulant Directress for the Province of Oceania.
Sister Apolina has served as a Regional Councillor in Vanuatu and is in her second term as a Provincial Councillor in Oceania.
Sister Pauline Gresham:
Sister Pauline Gresham was born in Patea, New Zealand on 2 July 1949. She made her First profession on 1 February 1970 at Heretaunga, New Zealand.
Sister Pauline was missioned to Tonga as a teacher after doing a formation course in USA she joined the Novitiate staff at Heretaunga and was later named Novice directress. She then served as regional in New Zealand before being named Provincial of the South Pacific Province.
Sister Pauline's most recent mission was in Pastoral ministry in Monteria, Colombia and in teaching in Lima, Peru.
Sister Malia Nive Kepu:
Sister Malia Nive Kepu was born on 29 September 1951 in Tonga. She was professed on 29 March 1977, at Heretaunga, NZ and then trained as a nurse in Tonga. She was one of the pioneers in the new mission in Colombia in 1983.
Later she did formation studies in Peru before being named Novice directress to the Interprovincial English speaking Novitiate in Australia and later in New Zealand.
Recently Sister Malia Nive has been the Assistant Provincial in the South Pacific.
Archive: 2016 | 2015 | 2014 | 2013 | 2012 | 2011 | 2010 | 2009 | 2008 | 2007 | 2006