News
Archive: 2016 | 2015 | 2014 | 2013 | 2012 | 2011 | 2010 | 2009 | 2008 | 2007 | 2006
News inserted on 27/09/2008
Our new Congregational Leader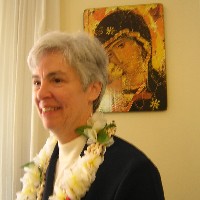 The Missionary Sisters of the Society of Mary are happy to announce that Sister Georgeanne Marie Donovan has been elected Congregational Leader for the next seven years.
Sr Georgeanne Marie was born in Philadelphia, Pennsylvania on February 5, 1949. She entered the Congregation in Bedford, Massachusetts, USA in 1968 and made her first profession on December 8, 1970. She was missioned to Jamaica in January 1971 and she served in various ministries at Hansen Home (government leprosarium) until beginning her theological studies at the Catholic Seminary and University of the West Indies in Kingston, Jamaica in 1974. After graduation in 1978, Georgeanne Marie spent the next 18 years engaged in pastoral ministry, lay formation, catechetical/liturgical coordination and diocesan administration in the Diocese of Montego Bay, Jamaica. In 1995, she received her MA in Adult Christian Community Development from Regis University in Denver, Colorado.
Georgeanne Marie served on the Provincial Council of the North American Province from 1995-2001 and, after six months as interim-provincial, served as provincial from 2002-2006. After participating in a sabbatical program and a biblical institute in Jerusalem, she was offered the position as chancellor for the Diocese of San Bernardino, California where she presently serves.
Archive: 2016 | 2015 | 2014 | 2013 | 2012 | 2011 | 2010 | 2009 | 2008 | 2007 | 2006