News
Archive: 2016 | 2015 | 2014 | 2013 | 2012 | 2011 | 2010 | 2009 | 2008 | 2007 | 2006
News inserted on 30/08/2008
Re-Living history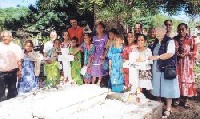 On 9 and 10 August 2008, the people of the Ile des Pins celebrated the 150th jubilee of the anniversary of the arrival of our Pioneers (Sister Marie de la Croix, Sisters Marie de la Paix and Sister Marie de Bon Secours) in New Caledonia. The women of this island were happy and joyful as they remembered how these three women worked tirelessly for the human and Christian formation of the people. Accordingly, the first day was organised by the association of senior people. The women joyfully sang songs that the first sisters had taught them. A very interesting display in the exhibition room helped us remember the story and the courage of these three women who came from France by ship in 1858.
We were united in spirit with the Petites Filles de Marie sisters who were celebrating the centenary of the death of their foundress Sister Marie de la Croix at St. Louis.
On 10 August, we gathered at the cemetery, around the grave of Sister Marie de la Paix. Children singing a beautiful song of hope began this gathering of prayer. The second day concluded with visits to the places associated with that period, and the Salve Regina which united us to the whole Marist family.
Sr M. Maurizia Mitelli
Archive: 2016 | 2015 | 2014 | 2013 | 2012 | 2011 | 2010 | 2009 | 2008 | 2007 | 2006