News
Archive: 2016 | 2015 | 2014 | 2013 | 2012 | 2011 | 2010 | 2009 | 2008 | 2007 | 2006
News inserted on 11/08/2008
World Youth Day Celebrations in New Zealand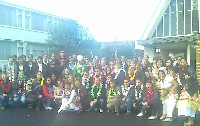 Sacred Heart parish, Ponsonby, New Zealand hosted forty French pilgrims the week before the WYD celebrations in Australia. New Zealand was chosen as part of their itinerary because French missionaries contributed much to faith formation in New Zealand.
Our Novitiate community hosted 7 of the pilgrims (5 young ladies and 2 young men). Those hosting the pilgrims provided bedrooms, meals and transport, as needed. We were fully involved in the Diocesan Pilgrimage Programme: the walk and official welcome at the Civic Centre near Victoria Park for 2600 pilgrims from 16 different countries; a visit to Pompallier Centre where we listened to the story of the settlement of the missionaries; a tour around Auckland to One Tree Hill and the North Shore.
We joined all the French pilgrims for evening prayer in French in our Novitiate Chapel after this tour and Mass in French which was celebrated on the 14th, Bastille Day.
It was a very enriching encounter despite the limitations of language. We were all happy because of the gift of Faith that we share. We accompanied the pilgrims to Sydney through our prayer and were able to watch many of the celebrations on TV. Even though we were not able to be in Sydney, unity and love bound us together with them.
Archive: 2016 | 2015 | 2014 | 2013 | 2012 | 2011 | 2010 | 2009 | 2008 | 2007 | 2006