News
Archive: 2016 | 2015 | 2014 | 2013 | 2012 | 2011 | 2010 | 2009 | 2008 | 2007 | 2006
News inserted on 05/08/2008
Participation in the World Youth Days in Sydney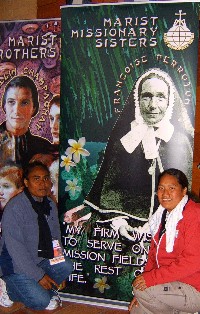 Seven Sisters in temporary vows from Bangladesh, Kiribati, Papua New Guinea and Solomon Islands gathered in Sydney with the two postulants for the Marist International Festival (MIF) and World Youth Day (WYD). In the days before and after these two events, they shared their experiences of living our SMSM life and also had the input on eco-spirituality and the vows. They were welcomed by the Merrylands community for these days of sharing and input.
Sister Suporna from Bangladesh, presently missioned in Sydney writes of her experience: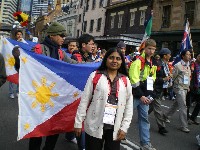 The WYD was an amazing experience. The week before the WYD I worked with a Jesuit priest to co-ordinate a week's interfaith programme for a group of 25 young people who were from 8 different countries. We took them to visit places of worship and to meet young people of other faiths. Everything went very well. The Pilgrims really enjoyed the interfaith experience and were very interested.
Archive: 2016 | 2015 | 2014 | 2013 | 2012 | 2011 | 2010 | 2009 | 2008 | 2007 | 2006