News
Archive: 2016 | 2015 | 2014 | 2013 | 2012 | 2011 | 2010 | 2009 | 2008 | 2007 | 2006
News inserted on 31/12/2013
Preparations for our new model of organisation
At our last General Chapter the general council was given the mandate to put into place a new model of organisation for the congregation. Much prayer and study has gone into planning for this change. In July and August, each province held an enlarged provincial or mission district meeting as part of the process.
Some photos of the meetings: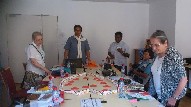 Eurafrica: Working at l'Hermitage 4-7 August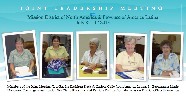 The Mission District of North America and the Province of America Latina had a joint leadership meeting in Boston from 8-11 July 2013.
The Mission District of Australia held their meeting 15 -18 July 2013 in Sydney, Australia. Fifteen Sisters gathered representing Sisters in Sydney, Queensland, P.N.G, Solomons and Bangladesh.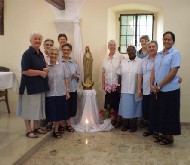 Italy Rwanda 4-9 August 2013. Theme: A future and a hope.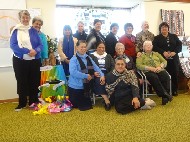 South Pacific: 23 - 27 June in Auckland, New Zealand. The theme: "preparing for the new"
In a colourful market place setting the Sisters presented the various ministries the Sisters are engaged in Samoa, Tonga, Fiji, New Zealand and the Philippines.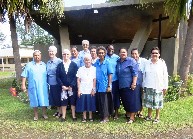 Oceania: in New Caledonia, 24-26 May: our process towards a new model of organization in our Congregation.
Participants: Sr Georgeanne Marie Donovan, Sr Michele Bernut, Sr Anita Vira, Sr Danielle Lemoullec, Sr Koleti Logote, Sr Valelia Asi, Sr Lucie Zo Rasoanirina, Sr M. Claire Rambeloharinirina, Sr Koleti Uvea, Sr Angela Lonardini, Sr Claudine Nakamura, Sr Euphrasie Mukamana.
Archive: 2016 | 2015 | 2014 | 2013 | 2012 | 2011 | 2010 | 2009 | 2008 | 2007 | 2006