News
Archive: 2016 | 2015 | 2014 | 2013 | 2012 | 2011 | 2010 | 2009 | 2008 | 2007 | 2006
News inserted on 21/02/2013
Perpetual profession of vows, Philippines
On Saturday December 8, 2012, the Missionary Sisters of the Society of Mary celebrated with great joy the perpetual profession of our sisters Janet Ninipua and Michelle de Silva in Marbel, Mindanao Island in the Philippines.
After years of discernment, these sisters in the presence of our Congregational Leader, Sr Georgeanne Marie Donovan and the community of faith, offered their lives to follow Christ "chaste, poor and obedient" as "missionary, Marist, religious" women forever.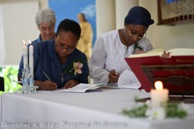 The Holy Mass was celebrated in the chapel of the Notre Dame of Marbel University, where our sisters have been present for the past nine months participating in a program of on-going formation for sisters in temporary vows. In a celebration rich in solemnity and simplicity,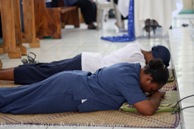 it was a true Marist family celebration with all five branches of the family present: Fathers, Sisters, Brothers, Missionary Sisters and Laity - lay associates and Marist partners.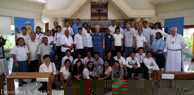 At the end of our Mass, the sisters received their sending by the Congregational Leader to "set out again." Sr Janet Ninipua, a citizen of the Solomon Islands has been sent to the Mission District of Australia to serve the people of Bangladesh. Sr Michelle de Silva, a national of Trinidad and Tobago, will continue to serve in the Province of America Latina, where she will join another sister to begin a new mission insertion in Cartagena, Colombia.
Yes we give thanks to God for continuing to call labourers into his harvest. May our sisters continue to be strengthened in their lifelong commitment to follow Christ in the manner of Mary, so as to be a little of her presence in our world today.
Archive: 2016 | 2015 | 2014 | 2013 | 2012 | 2011 | 2010 | 2009 | 2008 | 2007 | 2006